The Best Pre-Packed Hospital Bags for Labor and Delivery
When going through the pregnancy journey, you already have so much to do and consider (in ways that are both amazing and stressful) — the last thing you need to worry about is what you should or shouldn't bring to the hospital on your delivery day. That's why pre-packed hospital bags are a game-changer, providing you with everything you'll need while taking the stress of packing the bag yourself off of your plate.
Find Your Perfect Pre-Packed Hospital Bag
Whether you're planning on packing your hospital bag yourself or buying a pre-packed hospital bag, you should make sure you have your hospital bag together by your 36th or 37th week.
Here are a few pre-packed hospital bags full of helpful and soothing goodies that we recommend:
Lily + Llama's largest pre-packed hospital bag bundle has 20 products for mom and baby, including a toiletry kit, white noise machine, baby onesie, bathrobe, nightgown, receiving muslin blanket, maxi dress for mom, and more. For those who don't think they need the large bag, Lily + Llama also offers a smaller, 13-product bundle.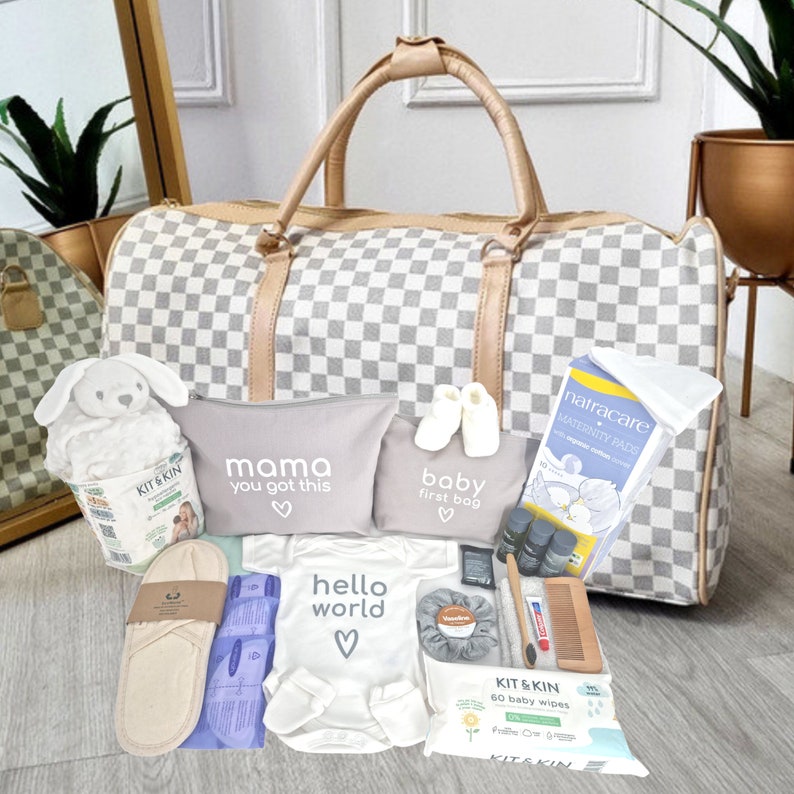 One of the top-customer-rated pre-packed hospital bags on Etsy, this bag contains breast pads, organic toiletries, baby mittens, and booties among its 17 items. The stylish gender-neutral bag can be used long after going home from the hospital, along with the precious "hello world" onesie for baby.
At a lower price point and with a simple yet essential approach, this bag includes cotton swabs, cotton rounds, a comb, snacks, tea, non-slip socks, ultra-soft nursing pads, and skin-friendly protective underwear.
The bag is compact with items well-organized inside, so it's the perfect choice for those who want these labor and delivery essentials packed and ready to go, while packing a larger bag with clothing items. This one will fit easily inside another bag, or for those who want to know they are always prepared, it's small enough to keep in the car if labor starts suddenly!
A bag for those who find peace of mind in being ultra-prepared, this bag has facial towelettes, honey sticks, a massage ball, thank you cards and a pen, organic nipple balm, reusable water bottle, a universal portable phone charger, shower sandals, and even a "book to make you cry happy-tears." All items are packed in a timeless, easy-to-clean weekender bag that is designed to serve beyond birth, easily doubling as a diaper bag, travel bag, or back-to-work pumping bag. 
This kit utilizes the "All Of The Things Carryall," a tote bag that can be used for the hospital, as a diaper bag later on, and for many other purposes.
Other stand-out features include the soft, breathable, silky spandex delivery robe and the New Mama Care Kit. This postpartum self-care kit is designed to help new moms start the healing process with all-natural, restorative essentials like nursing balm, sitz bath salts, and soothing spray.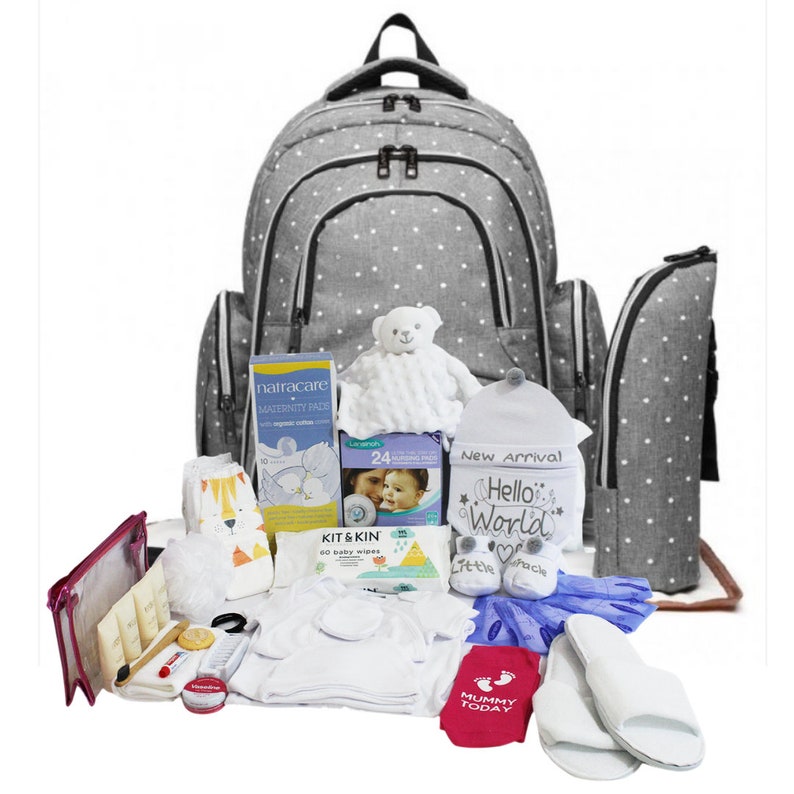 This pre-packed hospital bag stands out with its cute, polka dot backpack design. The bag itself is a 4-piece: the bag, a bottle holder, changing mat, and two canvas handles. Inside, there are a variety of mom and baby essentials, including a variety of toiletry items, hair ties, and nursing pads for mom. For babies, the kit includes a "New Arrival" bib, "Little Miracle" booties, and a "Hello World" hat, practical items that can also serve as special keepsakes.