Crib Safety Tips: What Parents Need To Know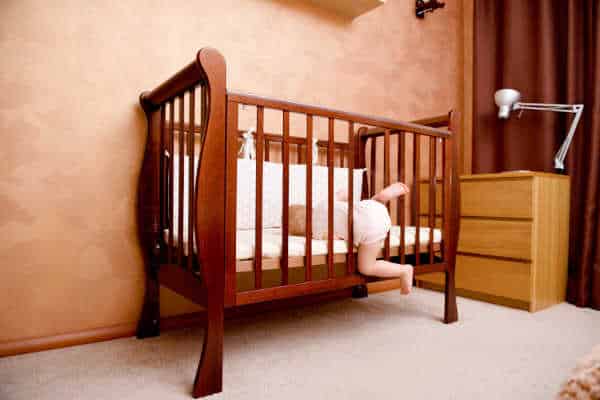 There is a lot of advice out there on how to make your baby's crib as safe as possible. However, many of the commonly posted crib safety tips are either too complicated or just don't work. This article will give you crib safety tips that are easy to implement and have been proven to work by many parents.
Choose a Firm Mattress
When it comes to sleeping arrangements, I prefer any mattress that allows me to sink into it. But it's a different story when it comes to safe sleep for my baby. Choose a crib mattress that is firm and will not sink under the weight of your baby. Make sure your baby's mattress fits snugly in their crib without leaving any gaps on any side that could trap them.
Opt for an Adjustable Mattress Height
Look for a mattress that can be adjusted in height to accommodate your growing baby. You're going to spend a lot of money on your baby's crib, so why not make it last as long as possible? From the infant years to the standing on his own stage, make sure your crib has an adjustable mattress to keep your child from falling out.
Get a Solid Headboard
I know the elaborate, decorative headboards are lovely. When it comes to your baby's crib, however, aesthetically pleasing takes a back seat to practicality and safety. Avoid headboards with cutouts to prevent your baby's clothing from becoming entangled.
Make Sure Crib Slats are 2 3/8" Apart
Make sure the space between the slats of your crib is no more than 2 3/8 inches. If a soda can fits between the slats, your baby's head could get stuck and lead to suffocation or strangulation.
Test for Stablity
Once your crib is assembled, it is critical to test its stability before entrusting it to your sleeping baby. Shake your crib to ensure that it is stable and does not wobble. This is a great indicator of whether or not you assembled it correctly – trust me, it may take one or two tries the first time.
No Bumpers
This rule is simple: remove any bumpers, toys, pillows and comforters from the crib while your baby is sleeping in it. The American Academy of Pediatrics established guidelines in 2011 stating that bumpers in cribs do not actually prevent injury but rather cause suffocation, entrapment, and other sleep-related deaths. When it comes to what goes in your crib, remember that less is more.
No Drop Sides
Don't use a crib with drop sides, The Consumer Product Safety Commission (CPSC) banned the production and sale of drop-side cribs in 2011 because they posed a risk of strangulation and suffocation. These cribs could also encounter issues such as breakage or loosening, missing parts, or even the drop-side being installed upside down.
Go for a Convertible Crib
Convertible cribs are perfect if you want a crib that will last from when your child is an infant and even through to adulthood. If this sounds right up your alley, make sure that you see how the crib looks when converted into a toddler or full-size bed.
Look for Locked Wheels
As a mother who is constantly on the go, I know how convenient it is to be able to move my baby's crib from one room to the next. If you opt for a portable crib, ensure that it is both lightweight, sturdy, and has lockable wheels – you don't need a rollaway baby on the loose!
Avoid Lead-based Paint
Crib paint is a common source of lead exposure in babies and young children. Due to higher-than-safe levels of lead, it is illegal to sell any crib with a lead-based finish. To reduce your baby's risk of ingesting lead from crib paint, choose colors that cannot easily be chewed off the crib or destroyed by use. Avoid anything white or pastel because these colors are often the softest. Bright colors and animals are ideal if your baby's hands get into something more dangerous than paint; for example, if he/she begins chewing on the rails.
Beware of Old Cribs
New cribs don't come cheap, you'll find yourself considering a secondhand option — at your local flea market or your grandparents' garage sale. Secondhand or pre-owned items may not be safe, especially if they're older than 10 years. They don't meet current safety standards and are simply not something that you'd want in your home — no matter how stinking cute they are. For added peace of mind, make sure the crib you choose will be new and safe for your baby.