Black Breastfeeding Week – Why it Matters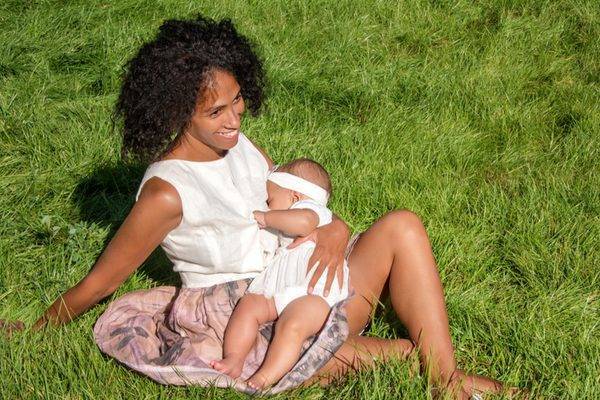 Black moms breastfeed too, that's one of the messages of Black Breastfeeding Week, which takes place from August 25 to 31. BBW was created to encourage black moms to breastfeed, connect with fellow breastfeeding moms, and share their stories and photos. This year's theme is We Outside! Celebrating Connection & Our Communities
Amidst an environment of systemic disparities, historical trauma, and cultural stigma, Black Breastfeeding Week aims to champion the right of every Black mother to breastfeed her child as she deems fit. In this post, we delve into the importance of this week-long observance.
The Inequities in the Landscape
One cannot fully grasp the necessity of Black Breastfeeding Week without understanding the disparities faced by Black mothers. Data has shown that Black infants have significantly lower breastfeeding rates compared to their white counterparts. According to the Centers for Disease Control and Prevention (CDC), 58% of Black mothers initiated breastfeeding in 2008, as opposed to 75% of white mothers.
These differences are not due to personal choice alone. They are the result of a complex mix of systemic issues, including lack of access to quality prenatal and postnatal care, cultural stigma, and a historic mistrust of healthcare systems.
The Health Benefits of Breastfeeding
Breast milk offers a host of advantages for infants, ranging from immunity boosts and better digestion to cognitive development. Studies also suggest that breastfeeding may reduce the risk of Sudden Infant Death Syndrome (SIDS). Given that Black infants have a higher risk of SIDS and infant mortality, the role of breastfeeding becomes even more critical in this context.
Empowering Black Mothers
Black Breastfeeding Week isn't just about encouraging the act of breastfeeding. It is also a social movement designed to empower Black mothers to make the best choices for their families. This includes advocating for better healthcare services, providing community support, and offering resources such as lactation consultations that are culturally sensitive.
Representation Matters
Representation is another key element. A simple internet search will reveal that most breastfeeding images are of white women. The lack of representation can make Black mothers feel marginalized, as if breastfeeding is not 'for them.' Black Breastfeeding Week offers a counter-narrative, displaying images of Black women breastfeeding and offering stories that Black mothers can relate to.
Fighting Stigma with Knowledge
There exists a cultural stigma associated with breastfeeding in some Black communities. Historically, Black women were often forced to wet-nurse white children during slavery, making the act fraught with negative connotations. Educating communities about the importance of breastfeeding for the health and well-being of Black families can help de-stigmatize it.
Policy and Advocacy
Another critical aspect of this week is pushing for policies that support Black mothers, from reasonable maternity leave to breastfeeding-friendly workplaces. Addressing the systemic issues that make it challenging for Black women to breastfeed will require collaboration between communities, healthcare providers, and policymakers.
How do you plan to celebrate Black Breastfeeding Week? Attend a local event? Have your voice heard on a Twitter chat or Instagram virtual summit? Find the full list of events at Blackbreastfeedingweek.org, and let us know … and don't forget to share those beautiful selfies!