10 Reasons Busy Parents Need Amazon Prime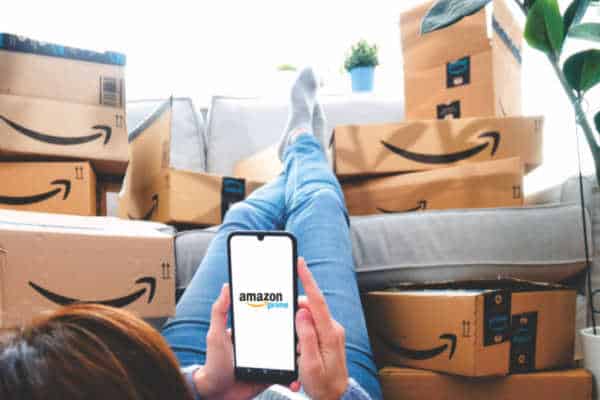 As a new parent, having the ability to shop for almost anything, including home services and baby essentials, is a game changer, and Amazon Prime makes it possible.
The fee for Amazon Prime is $139 per year ($14.99/month). Most members sign-up because it includes FREE (usually two-day) shipping, but there is so much more to Amazon Prime, especially for families.
Amazon Prime Top Benefits
1. Free Shipping
This is a key benefit, and often the one that gets people to sign-up. With Amazon Prime, you get free two-day shipping on millions of eligible items. Amazon does offer free standard shipping on qualifying orders of $25 or more to non-Prime customers, but keep in mind it will take five to eight business days for those orders to arrive. That's a big time difference when you're about to run out of diapers or need a new pacifier, sound machine, or swaddle ASAP.
2. Great Discounts on Baby Products
The best Prime option if you have children is Amazon Family. It's Prime that includes e-mail newsletter recommendations and exclusive deals including:
20% off diapers, baby food, and more
15% Baby Registry completion discount
Ability to share Prime benefits with other members of the family
Unlimited instant streaming of thousands of movies and televisions shows
Unlimited ad-free streaming of over a million songs
3. Great Place to Create Your Baby Registry
There are lots of online places to start your baby registry and we suggest registering at more than one location. Amazon is a great place to register for many reasons, especially when you have Amazon Prime. Benefits include the completion discount, diaper discount, and the fact that it's a universal registry option, meaning you can add items from other websites to your Amazon registry.
4. Try Clothes Before You Buy
Amazon's Try Before You Buy (previously called Prime Wardrobe) is a Prime-exclusive program that allows you to try before you buy from eligible items across women's, men's, kids', and baby clothing, as well as shoes and accessories. You can order up to eight items, and you get seven days to try on the items at home. You will only be charged for the items you decide to keep.
5. Unlimited Access to Thousands of Resources for Kids
Need more content for your kids? Amazon Kids+ is an all-in-one subscription ($2.99/month for Amazon Prime members) that gives kids access to thousands of kid-friendly books, movies, TV shows, educational apps, Audible books, and games on compatible Fire, Fire TV, Android, iOS, and Kindle devices.
The service comes with parental controls that allow you to personalize screen time limits, set educational goals, filter age-appropriate content, and also manage web browsing and content usage based on age and preferences.
For Amazon Prime members, the subscription starts at $4.99/month after the free one-month trial.
6. Easy Access to Home Services
Did you know you can book a housekeeping service or other service professional through Amazon? Forget about those long nights putting together bicycles and swing sets. Amazon Home Services offers customers over a thousand different services including:
House cleaning
TV wall mounting
Smart home device installation
Equipment and furniture assembly
Plumbing and electrical
Handyman
House painting
7. Subscribe and Save
With Amazon's Subscribe and Save feature, you get a 5% discount on essential items you may buy often. But when you are a Prime member, the discount increases to 15% if you subscribe to five or more products for auto-delivery. This can be especially helpful when you have a baby, so you can use this feature for diapers, wipes, baby food, and so much more.
8. Grocery Shop Smarter
Amazon Fresh is an online and physical grocery store that offers low prices on everyday favorites, plus free same-day delivery and pickup in select locations for Prime members. While there are physical store locations in some areas, Prime members can also shop online and receive FREE, same-day delivery and pickup from their local Amazon Fresh store. Head to this page to see if the location where you live qualifies.
9. Shop for Pantry Staples
You may remember Prime Pantry, but Amazon discontinued this subscription program in 2021. However, they transitioned thousands of everyday household products from Amazon Pantry to the main Amazon store. With a Prime membership, you can still get these items faster with Prime delivery and without an extra Pantry subscription. The change was aimed at making it easier to shop for pantry food items, as well as household items, such as toilet paper, paper towels, cleaning products, toiletries, and more.
10. Children's Book Deliveries
Amazon Book Box is a subscription for $19.99/month for Prime members. Once you customize a profile for your child, you will receive books that are chosen just for them every one, two, or three months. Read more about how Book Box works.