What To Pack In Your Diaper Bag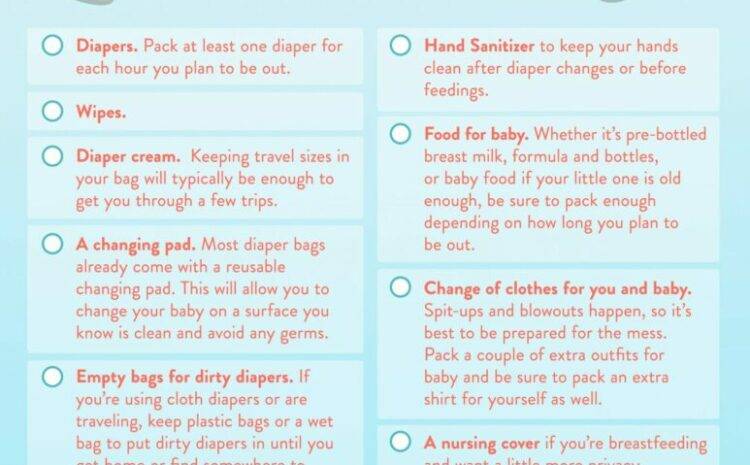 As a mom, your diaper bag will more than likely replace your purse as your trusty sidekick. Wherever you and your baby go, your diaper bag will be right there with everything you may need.
However, figuring out what everything you might need in your diaper bag can be a challenge. To help you get started we've created a list of essentials you need to keep in your diaper bag at all times.
Use your Babypalooza points to download a beautiful printable packing checklist
[purchase_link id="44417″ text="Purchase" style="button" color="blue"]
Diaper Bag Checklist
Diapers. This is obviously the most essential item to have packed in your diaper bag. It's recommended to pack one diaper for each hour you plan to be out, but you can never be too safe by packing extras.
Wipes. Not only will you need these for diaper changes, but they'll also come in handy when you need to clean your hands, your changing pad, or any dirty surfaces you come across.
Diaper cream. Keeping travel sizes in your bag will typically be enough to get you through a few trips. They'll also take up less space.
A changing pad. Most diaper bags already come with a reusable changing pad. This will allow you to change your baby on a surface you know is clean and avoid any germs.
Empty bags for dirty diapers. If you're using disposable diapers, it's easy to throw soiled diapers into the nearest trashcan. If you're using cloth diapers or are traveling, keep plastic bags or a wet bag to put dirty diapers in until you get home or find somewhere to dispose of them.
Pacifiers if you use them.
Burp cloths to avoid any spit ups.
Hand Sanitizer to keep your hands clean after diaper changes or before feedings.
Food for baby. Whether it's pre-bottled breast milk, formula and bottles, or baby food if your little one is old enough, be sure to pack enough depending on how long you plan to be out.
Change of clothes for you and baby. Spit-ups and blowouts happen, so it's best to be prepared for the mess. Pack a couple of extra outfits for baby and be sure to pack an extra shirt for yourself as well.
A small blanket to cover your baby, use as a nursing cover, use as a changing pad if you don't have one, or if you're in a bind, to use as a burp cloth.
A nursing cover if you're breastfeeding and want a little more privacy.
Nursing pads to avoid any milk leaks.
Toys to keep your little one entertained. Try not to overfill your bag with all of the toys your baby owns. Bring just a few of their favorites for them to play with to save space and save time tracking them down.
A first-aid kit if you have a toddler on your hands. You never know when they may stumble and get a scrape. Even if it's a small boo-boo, the power of a Paw Patrol Band-Aid can do wonders for making your child feel better.
Now that you have the basics check out ways to keep your diaper bag organized.
Download a printable checklist