Virtually Design Your Perfect Nursery with Target's Nursery Planner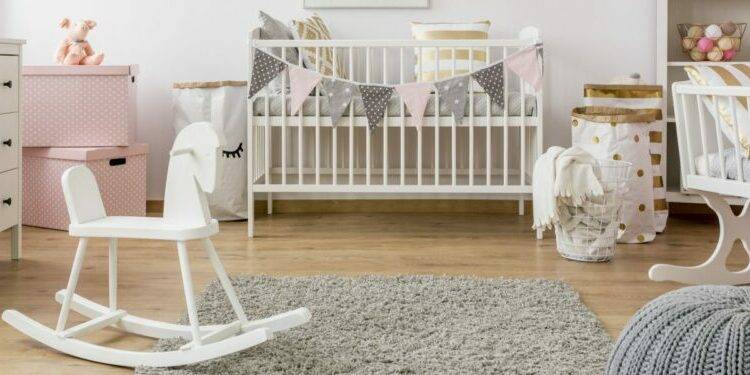 If you're the type of person who likes to visualize things — or you have a hard time buying furniture without seeing it in your space — then you'll love Target's Nursery Planner. This virtual nursery builder allows parents-to-be to design and create their perfect nursery online using products available at Target. It's a helpful website feature that will help bring your nursery to life — and you can swap out items at any time to see how they all work together!
To get started, you first have to create your room. Target's Nursery Planner allows you to build everything to scale of your actual nursery. You'll put in your room dimensions, floor type, wall color, and where you have windows and doors. You'll get a perfectly detailed 3-D preview of your exact room.
Then, for the fun part! Once your room is ready, you can begin adding items to it. Choose furniture like cribs, changing tables, dressers, gliders, ottomans, and more. Then add some accessories like lamps, rugs, wall art, decor, curtains, and blinds. You can even add sheets to your crib mattress and stock the room with plush toys in anticipation of baby playtime. Target makes it easy by breaking essential nursery items into specific categories, so you'll never forget anything.
The best part about Target's Nursery Planner is that you really get a feel for how everything works together without having to commit to purchasing items. That side table doesn't look good with the chair you picked out? No problem! Swap it out for another one. Are those drapes just not working with your windows? Find a different length! It's like playing dollhouse, but in real life.
Once you're happy with your design (and no judgment if you redo it over and over — it's fun to play around with!), you can easily add all the items to your cart or Target baby registry. Your room design can also be shared with your partner, friends, and family making it easy for everyone to see baby's future home. Who knew it could be so easy to design a nursery!
On the Nursery Planner home page, Target also shares some nursery safety tips from experts:
1. Baby's crib should only include a mattress, fitted sheet and dust ruffle.
2. Baby loves to get grabby. Keep blankets, comforters, cords and lamps away from the crib and out of baby's reach.
3. Keep baby's crib away from windows and any other items that might cause baby harm (like pictures and wall accessories).
4. Hanging fixtures, lighting or shelves? Not above baby's crib! Help keep baby safe from any potential falling hazards.
1. Don't leave baby alone! An adult should always be nearby when baby is on the changing table.
2. The area above and around baby's changing table should be clear of any potential safety concerns—including windows.