Tutu Cute Baby Shower Theme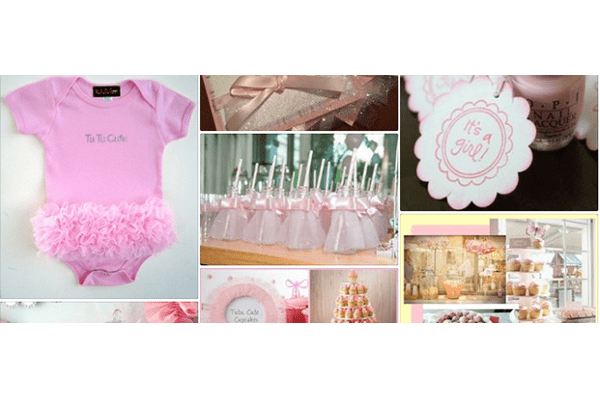 Waiting for your little girl to arrive is an exciting time and should be celebrated. Throwing a baby shower for a girl can often feel cliche though, with all of the pink tablecloths, napkins, and cupcakes. Giving your baby shower a ballerina theme can allow you to still enjoy all of the pinks in a fun and elegant way, without it feeling basic and overdone. Check out our list of ideas that will help you throw a baby shower that is tutu cute.
Tutu Cute Baby Shower Ideas
Decor
Tutu Garland


If your planning to use pink tulle table skirts, these mini tutu garlands will be a great accent to go along with them. Hang them on the wall, or use them separately to place on vases or bottles.
Tutu Selfie Frame


With a baby shower this cute, your guests are going to want to take pictures to capture the memories of celebrating your little girl. This personalized ballerina selfie frame is the perfect prop for your guests to use when taking photos. It's also easy to transport, so guests can use it to take pictures wherever they like.
Tiaras


Pink tiaras can be an easy decoration if randomly placed throughout the tables at your baby shower. They're also an easy prop for your guests to grab when they're taking pictures and want to get more into the ballerina spirit.
Food
Ballerina Marshmallows
|
Ballerina marshmallows are the perfect sweet treat to serve at your baby girls tutu baby shower. The best part about them? You could make these in your sleep! Put a marshmallow on a stick, place a pink cupcake liner for the skirt, and dip into some sprinkles and you're done.
Chocolate Covered Strawberries
|
How tutu cute are these ballerina slipper chocolate covered strawberries? These are a must for your little girls baby shower.
Rock Candy


It's hard to resist rock candy. These will add a nice pop of pink color to your food table. They'll also keep you from having to make another item to eat.
Pink Lemonade Bottles
|
Get your guests into the baby girl spirit by serving pink lemonade in baby bottles. Not only will it look cute, but it will be fun for your guests to enjoy. You could also put the mini tutus from your garland around the tops of the bottles to make them even more extra.
Party Favors
Your guests came to celebrate your little girl, so why not give them a little gift to show how much you appreciate them. Wrap pink nail polish, bath bombs, or hand sanitizer in pink tulle. Attach a tag that says "Tutu sweet of you to come," and hand them out to everyone who came.
You can find lots of other great ideas for the TuTu Cute theme on our Pinterest page: