The Importance of Infant CPR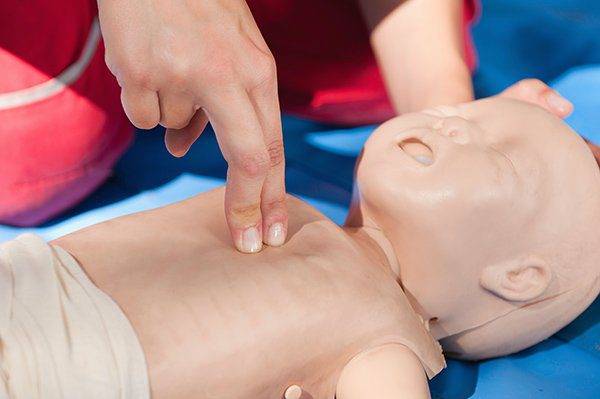 As a parent, you always want to make sure your children are safe. That's your top priority. Whether you're caring for your baby or they're with a babysitter, there's one skill that just may save your child's life in an emergency: the ability to perform infant CPR.
CPR (short for cardiopulmonary resuscitation) becomes a medical necessity when a baby stops breathing or becomes unresponsive. By performing chest compressions and rescue breaths, the parent or babysitter is basically doing what the baby's heart should be doing.
Are you and your babysitter trained in CPR, first aid, and choking relief? The lifesaving skills learned in a First Aid/CPR/AED class can change the outcome of an emergency situation.
Types of Emergencies that May Require Infant CPR
Like any parent, you hope no harm ever comes to your child. However, it's important to be prepared for anything. Here are some situations in which CPR can be a lifesaver:
Drowning: Sadly, drowning is more common than many people realize. In fact, it's the No. 1 cause of death in 1- to 4-year-olds and the No. 3 cause of death among 5- to 18-year-olds. Water-related injuries aren't just reserved for the beach or the pool. Bathtubs, toilets, ponds, fountains, and even buckets of water can all pose a threat.
Choking: Choking is another leading cause of death for young children. Whether it's caused by food, toys, coins, or another foreign object, choking cuts off a child's airway.
Accidental ingestion: If a curious youngster ingests something unsafe (such as medication or household poison), there is a risk of cardiac arrest.
Health conditions: Heart abnormalities, respiratory issues, and other health conditions can increase a child's risk of cardiac arrest.
Chest injuries: Though it's not a likely occurrence, a sudden blow to the chest for an infant can lead to cardiac arrest.
What Infant CPR Training Teaches You
If you take an infant CPR class, you'll learn several skills:
• Learn how to evaluate the scene of an emergency
• Find out when to call 911
• Be able to identify the signs of choking
• Learn to give immediate First Aid until help arrives
• Learn to perform CPR and use an AED if available
These valuable skills will help any caregiver know what to expect and help them to stay calm in case of an emergency. More important, it could save your child's life! Whether you are a babysitter, family member, friend, or neighbor, these skills could mean life or death in an emergency when seconds matter.
Infant CPR basics:
• Make sure the scene is safe
• Check for the responsiveness of the baby by tapping her foot and shouting her name
• Call 9-1-1 and get an AED
• Began CPR using two fingers in the center of the baby's chest, pressing hard and fast about 1.5 inches deep
• Every 30 compressions give two breaths in the mouth, covering the baby's nose and mouth with your mouth
• Stay calm!
Sources:
The American Red Cross
Trio Safety Infant CPR