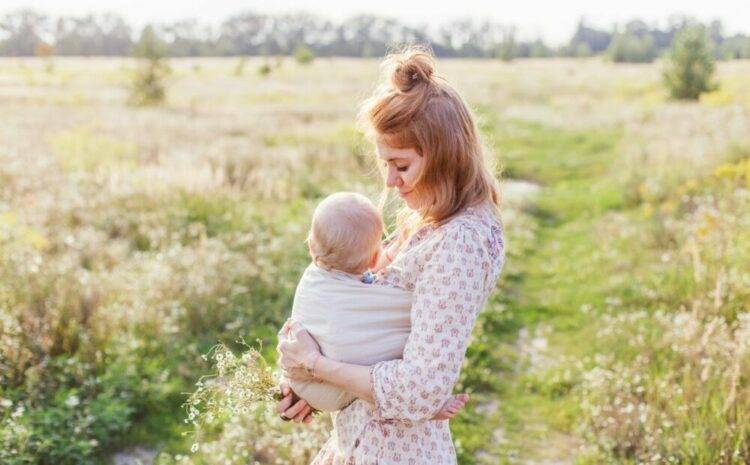 Babywearing is a great way to bond with your baby. But with summer upon us and temperatures rising, you may be wondering how you can practice babywearing and still keep your baby and yourself safe and cool.
We turned to babywearing consultant Amie Martin for help. Amie is the founder of Butterflies Dancing Perinatal Support and a certified GroovaRoo Dance and Zumbini instructor who helps families bond with their babies through music and dance.
"Babywearing is such a beautiful tool that is helpful not just for mom and baby but is a great way for dads and grandparents to bond with baby as well," Amie says.
The Benefits of Babywearing
Along with the benefits of bonding, babywearing can be good for you and your baby's health, too.
"Babywearing can improve a mom's mood and oxytocin levels, which can help mom with decreasing perinatal mood and anxiety disorders," Amie says. "I am also fascinated by the benefits for the child's physical and cognitive development."
Keeping your baby in an upright position can also help with reflux and digestion, decreasing crying episodes.
And, of course, don't forget about the convenience of babywearing!
"Being able to travel or move more freely allowing you to have a hand to get a bite to eat, do light housework, exercise, and go into appointments with baby close can be very helpful," Amie says.
Remember T.I.C.K.S.
As for making sure you're keeping your baby safe, Amie says you simply need to remember the acronym T.I.C.K.S.
T is for tight
I is for in view at all times
C is for close enough to kiss
K reminds you to keep baby's chin off of her chest
S reminds you to make sure baby's back is supported.
"I like to add that when babywearing, be aware of head support and the seat position," Amie says. "Also always reposition after nursing in the carrier."
Babywearing in Summer
When it comes to babywearing in summer, Amie says you should think of the baby carrier as another piece of clothing. So, just as you are dressing your baby (and yourself) in light, breathable clothing, be sure to use a carrier made from lightweight, breathable fabric, too. Avoid bulky carriers this time of year.
Amie also recommends babywearing for shorter periods of time to avoid overheating. "Wearing your own hat can also be helpful to shade you and the baby," Amie says.  "And as always, even when babywearing, check on your baby frequently."
After choosing the carrier that's right for you and your baby, be sure to follow the recommendations of the manufacturer. If you want to carry your baby forward-facing, you may want to work with a babywearing consultant to be sure that's a good option for your baby, to ensure you have the proper fit, and to explore other carrying options to meet your goals and comfort needs.
"For forward-facing, it is important that the child has complete neck, head, and torso control," Amie explains. "The baby's chin should be above the panel and make sure baby has a proper fit in the carrier." Also, remember a baby should never sleep in a forward-facing carrier position.
If you have any questions about babywearing, nursing in the carrier, or getting the proper fit, consult a babywearing educator for help.