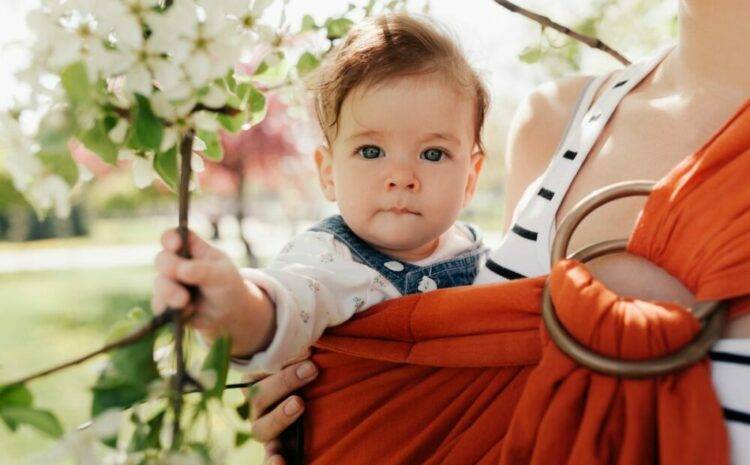 Ring Slings are identified by a length of fabric with two rings attached to one end. The tail of the sling is threaded through the rings to create an adjustable pouch. The carrier is worn over one shoulder similar to a sash. They are great for newborns as well as older babies and toddlers. Newborns and small babies should be carried close enough to kiss, in the upright position, tummy to tummy with the caregiver, with their face and airway visible. Bigger babies and toddlers can be worn on the hip similar to how they would be carried on a hip but without the weight strain on the arms.
Safety when buying a ring sling:
Please remember not all slings are created equal. Look for those with a medium-heavyweight material and rings that have been safety tested specifically for the use of babywearing, like slingrings.com. Quilter's cottons aren't strong enough and may easily tear during use. Also rings found in hardware or craft stores often have welded seams that can become soft and break and are not tested to withstand the weight of a child. If you are unsure about the quality of a sling please contact a babywearing group or babywearing educator to double-check. Always inspect your carrier for any damage prior to wearing your baby.
Our Ring Sling Picks
Moby Ring Sling

The Moby Ring Sling is made of soft, breathable cotton to keep you and your baby cool. It grows with your baby, fitting them from 8–33 pounds.
Maya Wrap Ring Sling
The Maya Ring Sling is also made of breathable cotton, keeping you and your baby cool. Along with adjusting to fit your growing baby, it also has a zippered pocket to store your small belongings while on the go.
Nalakai Ring Sling

The Nalakai comes in a variety of different neutral tones, so you can find one that perfectly fits your style. Even better, for each purchase, they donate to a charity helping low-income families in Costa Rica.
LÍLLÉbaby Eternal Love Ring Sling 
The Eternal Love is made of linen, so it's very lightweight and breathable for you and your little one. It also has a zipper pouch for you to store your keys and other essentials while out and about.
Learn more about the different types of baby carriers and our baby carrier picks for 2020.