Moms Helping Moms on the Border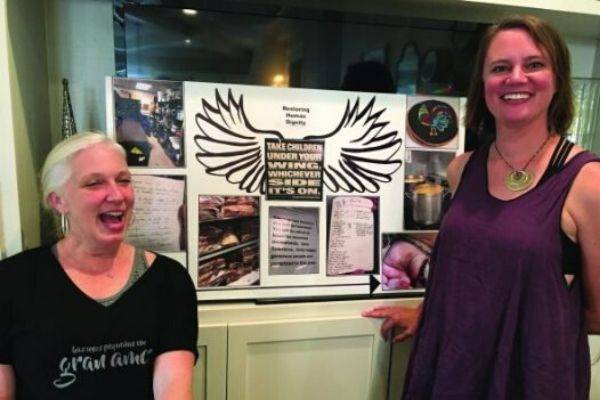 Moved to "do something" about the suffering of women and children on the border two moms travel to Texas to volunteer at an Immigrant Processing Center.
Rachel Estes and Mollie Erickson were horrified when they heard the news of children being separated from their parents at the border. Initially unsure of what they could do, they knew they had to do something. Rachel said, "Let's go to Texas," and Mollie agreed immediately.
For three days in July, Rachel and Mollie left their families and volunteered at the Catholic Charities of the Rio Grande Valley's Humanitarian Respite Center in McAllen, Texas. The goal at the facility was to help people get nourishment, clothing, and medical attention, as well as provide "some calm to the frazzled and fragile families," Rachel says. The center was staffed with volunteers from all over the country, spanning all ages, ethnicities, and political persuasions.
Love in Action
Both Mollie and Rachel have reflected on their experiences and written about them. Mollie wrote about her time volunteering in a series of letters to her high school Spanish professor, and Rachel shared her thoughts with her friends via social media … like this post:
"It's 104 degrees in McAllen, TX, but in the clothes room, you gently persuade exhausted families to consider a long sleeve shirt because the bus is muy frio… dads ask quietly if there are pants that are softer … meaning leggings or sweats and not jeans because these will be the sleepwear AND daywear for days to come.

The care and sweet consideration of each clothing choice is heartbreaking. Everyone wants to look stylish, tucked in, pulled together—sometimes a challenge when you are fitting donated skinny jeans over an ankle bracelet … that winks consistently—reminding you this is real."

—Rachel Estes
For Mollie, the experience was powerful. "It was awful and awesome," she says. "Huge and real and amazing. Mostly, it was constant."
"Three small boys came into the lunch room and sat in the chairs. A volunteer guided them in and announced they needed sopa. We jumped to serve them;they were tiny in those huge adult chairs. After our persistent cajoling, one confessedthat he did not like carrots and did not want them in his soup. Then another pickedup a green bean and made a stank face. The other boy said he did not like soup AT ALL.

He asked if I had any milk? No, only water. I asked the boy, "What do you need? How can I help? Are you hungry?" He just stared at me. Maybe he was four years old. Again I asked, "What do you need?" He said, "Mi mama."

—Mollie Erickson
Rachel calls the work "exhausting, critically important, and heart-wrenching." Food was particularly crucial: "Kids are kids when they have a belly full of chicken soup—interested in a book about trucks, willing to play games," she recalls. "But when they haven't had their soup and are feeling uneasy, it's a sad and exacerbated fragileness."
How to Help
Rachel and Mollie encourage others to help. "Rachel and I did not follow a script—we just went," Mollie says. "Because we could not stand the thought of babies and mamas being separated. We couldn't stand the thought of Daddies having to find their families after being detained/jailed/deported."
Rachel returned to the Respite Center in McAllen in November with a team of six who served the people there for four days. However, because not everyone can go to Texas, they have other ideas. Mollie suggests people call their senators and representatives to express their feelings about the situation at the border.
"I recently trained, and it was so organized and easy for me to see where I could plug in," Mollie says. "And you do not have to speak Spanish to learn how to receive, learn with, and learn from the Latino community!" And, of course, one concrete way to help is by donating money to the Catholic Respite Center in McAllen. "Every day, we made 400 ham and cheese sandwiches," Rachel recalls. "That takes $113." Sometimes the center posts an Amazon Wish List so people can mail donations; other times they prefer monetary donations due to space constraints. To learn more about how you can help, visit sacredheartchurch-mcallen.org.