Mommy to Bee Baby Shower Theme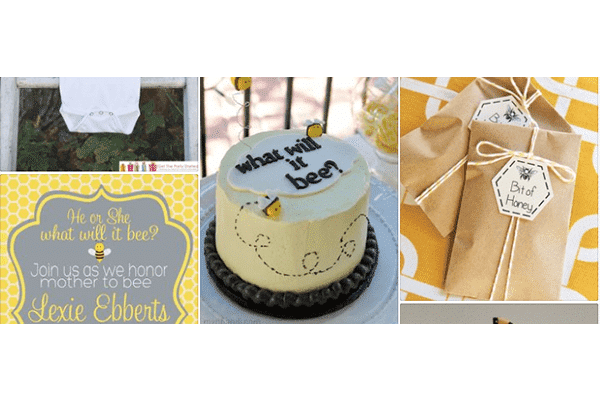 A bumblebee themed baby shower is a wonderful way to celebrate a mommy-to-bee. It's also great for parents looking for a gender neutral baby shower idea or who are keeping the gender of their baby a secret until birth. Your guests will be buzzing about how adorable the celebration is! Check out our list of ideas to help you throw the perfect "Mommy to Bee" baby shower.
Mommy to Bee Baby Shower Ideas
Decor
Honeycomb Lanterns


Lanterns are easy to assemble and cost-effective. This kit conveniently comes already bee themed, with black and yellow orbs, lanterns, and fans accented with bees, hives, and flowers. They will look great hanging from the ceiling or mounted to the wall. You could also use them as cute centerpieces.
Light Box


It'll be easy to over-do it on the bee themed decor. Hit pause on ordering that bumblebee "mommy to bee" banner and consider getting a lightbox instead. The light will grab everyone's attention and be a nice accent to the rest of your decorations.
Bumblebee String Lights


Maybe you want to keep the table decorations simple. Using flowers in Mason jars as centerpieces can be great for sticking to the bee theme. Adding some bee string lights to the table around your flowers can add a little extra fun, without overwhelming your guests as they eat.
Food
Honey-Comb Cereal


Honey-Comb Cereal was made for this moment. Pour some into a Mason jar and voila, you've got a snack that's fast, easy, and on theme. It'll also look cute on your food table, so win-win.
Bee Stingers
|
Alternate pieces of pineapple and grapes on a stick to resemble the colors of a bee. It'll make for a healthy snack that's easy to eat.
Sandwiches
|
Yes, this is as basic as it gets when talking about party food. But, sandwiches are perfect finger foods and shouldn't be discounted when deciding on what to serve at your shower. Cut them into hexagon shapes to resemble a honeycomb and you've got yourself food that's on theme and didn't break the bank.
Chicken Fingers with Honey Mustard
|
Chicken fingers are a crowd pleaser, let's be honest. Serve some with honey mustard dipping sauce and you'll be set.
Graham Cracker Pudding Cups
|
These pudding cups are made from graham crackers, vanilla pudding, and chocolate pudding topped off with whip cream and a wafer. So easy to make and so yummy! If the colors aren't enough, you could always top it off with a little bee decoration.
Honey Bee Cupcakes
|
How can you go wrong with cupcakes? These honey cupcakes are frosted with honey buttercream icing and decorated with adorable jelly bean bumblebees. They'll taste good and look good!
Games
Guess How Many Honeycombs
|
Remember the Honey-Comb cereal you easily poured into jars for the food table? Surprise! They can also be used for a fun guessing game. Fill an extra jar with cereal that won't be eaten from, and have your guests guess how many pieces are in the jar for a prize.
Who Knows Mommy-to-Bee Best?


How well do you know the mommy-to-bee? Have your guests answer the card full of questions all about you. Whoever gets the most right wins a prize.
Bee Bingo


Bingo is always a good time and easy for everyone to play. These bingo cards are bee themed and baby themed, giving you the best of both worlds for your bee themed baby shower.
Party Favors  
Looking for a simple party favor to thank your guests for coming to celebrate your little bundle of joy? Give them Burt's Bees lip balm and honey sticks. Attach the lip balm and honey to a card that says "Thanks for bee-ing here" to tie the gift together.
Check out our Mommy to Bee Pinterest board for even more ideas: