How to Throw The Greatest Virtual Baby Shower Ever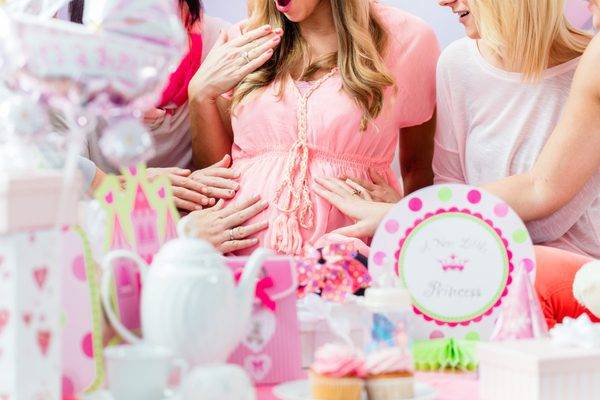 If the baby shower you've been dreaming of just got canceled because of the coronavirus pandemic don't worry we have all of the tips and resources you need to throw a virtual baby shower!
8 tips for planning the best virtual baby shower
1. Send Virtual Invitations
We suggest you create a Facebook event for your party invitation because almost everyone is on Facebook and can RSVP and share it with others. The event stays up until you delete it so you can treat it like a baby shower group and post-pregnancy updates to everyone that attended and of course photos once baby arrives.
2. Set Up Video Chat
There's a variety of ways to gather your group online you could do a Facetime group or use a free video conference service like Skype, Google Hangouts, Zoom, etc. However, the easiest way is to use WebBabyShower.com
WebBabyShower offers a private online gathering, with video & photo albums, guest books, games, a gift registry and built-in email invitations and birth announcements. The fee is usually $80 but because of the Coronavirus, they are offering rebates.
Visit the website and they will immediately send you a discount code that you can use on sign-up.
3. Decorate for The Baby Shower
It's just like any other baby shower just virtual so go all out. Decorate your home as you would for a baby shower. It gives you the same joy and anticipation as you would have for a live event. Or Download one of our virtual Zoom backgrounds from the website to set the scene for the big day.
4. Start Your Online Baby Registry
Create an Amazon Baby Registry. The registry offers all kinds of perks and fun surprises including a free welcome box. Most families today have an Amazon Prime account so it will allow your guests to purchase from your wish list and have it shipped for free.
And while Amazon boasts millions of products to purchase, their Baby Registry also allows for Universal Registry, where any item from any site can be added. You should register for multiple online registries. They are all free and most offer a free gift box once you complete the registry.
Amazon's Group Gifting for Gift Givers is an amazing option for guests to contribute money to the guest of honor's baby registry to go towards a big item purchase like a stroller or car seat.
Gift givers can contribute any dollar amount of their choosing to the baby registry. They simply browse the registry, select the item, and click 'Contribute to Gift.' They can then enter a dollar amount and hit 'Add Contribution to Cart' and proceed to check out as one would with any other purchase.
After your guests make their contribution, you will receive the funds in the form of a Gift Card to purchase the items on your registry. It's really as simple as that!
When the gifts arrive save them for the big day and open them when everyone can watch over video and see your surprise just like they would live.
If you need help knowing what to put in your registry check out our Baby Registry 101 Guide.​
Are you a Prime member? If not sign up you will save 15% on eligible items when you complete your registry.
5. Arrange for Refreshments
Mommy Mocktails – Babypalooza has created some fun mocktail recipe cards that you can download and share with your guests.
Cake – BakeMeAWish.com located in New York delivers gourmet cakes and baked goods to anyone across the United States. You can arrange to have one delivered to you for the big day and to any of your other virtual guests so you can all share together. The Babypalooza staff ordered one to review and gave it a double thumbs up.
Here's our list of budget-friendly and easy to mail party favors.
7. Play Virtual Baby Shower Games
Have you heard of the baby betting pool game where friends and family members pay to guess the baby's gender or due date?
JackBox Games offers a variety of easy play games for up to eight players. It's available on several platforms including Apple TV, Amazon Fire TV, XBox, Playstation, and more. They offer party packs for $12 to $20.
Myfreebingocards.com is an option to play virtual bingo. You will email guests a link where they can download bingo cards to their phones or iPad.
Triviamaker.com allows you to make your own games such as trivia questions or jeopardy. We've created both of those games for download on the website. And have many more ideas on our Pinterest Page.
8. Say "Thank You"
Remember that even though your virtual baby shower is anything but traditional, the traditional 'thank you' note etiquette still applies.
A cute addition to your thank you note could be a small treat related to the gender of your baby, like a Stork Pop, so it can still feel like friends and family got a goodie bag and keepsake from your shower.