Got (extra) milk? Many milk banks are in need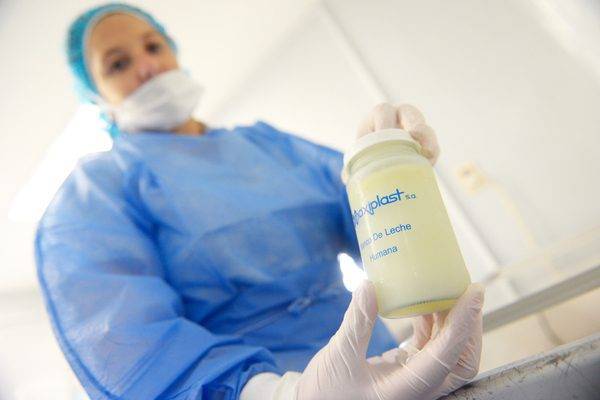 During the current pandemic, people across the country have noticed changes both small and large: grocery store shelves emptied of certain staples, a general lack of toilet paper, and not a drop of hand sanitizer to be found. But there's something else in short supply that many people may not even be thinking about: breast milk.
Just like blood banks, milk banks rely on donations to keep their supply stocked. But now that people are following shelter-in-place and social distancing orders, breast milk donations have understandably decreased. Generally, milk banks prioritize premature and ill infants in NICUs when providing donor milk—which means milk shortages can affect those who truly need it most.
For those concerned about breast milk donation during a pandemic, the Milk Bank in Indianapolis released a statement detailing the steps taken by milk banks to ensure safety. The statement notes that the milk bank adheres to safeguards set by the CDC and FDA, including comprehensive donor screening, validated pasteurization, and third-party microbiological analysis.
It goes on to address the issue COVID-19 pandemic, stating that studies have shown that viruses like COVID-19 are not able to survive the heat treatment that occurs during the pasteurization process.
Generally, it is recommended that mothers continue breastfeeding even if they get sick. The CDC released breastfeeding guidelines specifically related to COVID-19.
Milk banks do have guidelines for donors that require they are in good health, do not take certain medications, are currently breastfeeding or pumping for a baby under 1 year, and are willing to undergo a free blood test.
To simplify the donation process, some milk banks are able to ship supplies and materials to donating mothers who are not able to bring milk to a collection depot.
If you'd like to learn more or get screened to see if you can donate, visit the Human Milk Banking Association of North America (HMBANA) to find a milk bank in your area. You can also search for milk banks affiliated with local hospitals. Many milk banks accept financial donations as well as milk donations.
Alabama Milk Banks
Auburn
Mother's Milk Bank
Cornerstone Family Chiropractic
323 Airport Rd, Suite E, Auburn, AL 36830
Birmingham
Mother's Milk Bank
Monogram Maternity
810 St. Vincents Drive, Birmingham, AL 35205 (4th Floor of Women's Center)
Mother's Milk Bank of Alabama
107 Walter Davis Dr, Birmingham, AL 35209 
Huntsville
Mother's Milk Bank
A Nurturing Moment
7450 Memorial Parkway SW, Suite B, Huntsville, AL 35802
Mother's Milk Bank
Connections Breastfeeding
1874 Slaughter Road, Suite M, Madison, AL 35758 
Mobile
Mother's Milk Bank
Infirmary Health
1720 Springhill Ave, Suite 400, Mobile, AL 36604 
Montgomery
Mother's Milk Bank
Jackson Hospital Family Birth Center
1725 Pine Street, Montgomery, AL 36106 
Muscle Shoals
Mother's Milk Bank
The Baby's Room
801 East Tennessee St, Florence, AL 35630 
Mississippi Milk Banks
Jackson
Mother's Milk Bank of Mississippi Main Office
2001 Airport Road, Suite 204, Flowood, MS 39232 
Tennessee Milk Banks
Memphis
Mother's Milk Bank
Memphis Regional One Hospital
877 Jefferson Ave, Memphis, TN 38103 
Nashville
Mother's Milk Bank
TriStar Horizon Medical Center
111 Hwy 70 E, Dickson, TN 37055
Mother's Milk Bank
Nashville General Hospital
1818 Albion St., Nashville, TN 37208 (Women's Health Services 4th Floor)
Mother's Milk Bank
TriStar Centennial Women's Hospital
2221 Murphy Ave, Nashville, TN 37203
Mother's Milk Bank
The Birth Center at Tristar Hendersonville
355 New Shackle Island Rd., Hendersonville, TN 37075
Mother's Milk Bank
StoneCrest Hospital
200 Stonecrest Boulevard, Smyrna, TN 37167
Mother's Milk Bank
St. Thomas Rutherford Hospital
1700 Medical Center Pkwy, Murfreesboro, TN 37129