Father's Day Gift Guide: 8 Ideas for Dad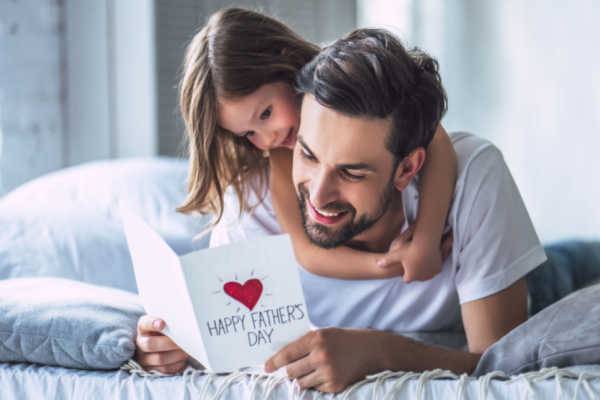 Dads deserve to be celebrated year-round, but especially in June for Father's Day! To make your shopping experience easier, we've rounded up a list of some of our favorite dad-focused gifts for our 2022 Father's Day Gift Guide with items that he's sure to love — whether he's surviving the newborn stage or an experienced father with a couple kids in his arms.
Father's Day Gift Guide
Every new parent knows the value of caring for your baby while remaining hands-free. And while baby carriers are wonderful, you can simplify the baby-wearing process for Dad by gifting him this Lalabu Dad Shirt this Father's Day! It's the first-of-its-kind baby-wearing t-shirt designed specifically with dads in mind. There's no overly complicated wrapping, buckling or resizing; they just put it on like a normal shirt, slip the baby into the front pouch, and go about their day. It comes in black or gray and in sizes small to 2XL.
Meet the world's first temperature-controlled mug! Designed to keep coffee and other hot beverages at an ideal sipping temperature, the Ember Mug 2 is a gift the dad in your life will appreciate both at home and at work after your family's new bundle has arrived. He can even adjust the mug's heat with Ember's mobile app or simply use the preset of 135°F. The smart mug's integral battery maintains your chosen temperature for 80 to 90 minutes (depending on mug size).
For all-day use, he can keep the mug on the charging coaster. The days (and nights) of drinking cold, leftover coffee and constantly reheating coffee in the microwave (and forgetting it's in the microwave) are over! It comes in a 10-oz white or black option on Amazon, or a 14-oz. Find more options in additional colors from Williams-Sonoma, and check out the travel mug.
Fanny Pack for Cool Dad Summer
Whether we like it or not, fanny packs are back in style. And, truthfully, we love this because they're incredibly functional for parents! But they're not just for moms anymore. With stylish and functional varieties like the Kibou Deliberately Minimal Diaper Bag, Dad can carry some of the weight of caring for the baby without getting weighed down. This bag is designed to sit comfortably on the waist or to be worn as a crossbody bag.
It has a built-in waterproof pocket that holds 20+ wet wipes for up to two weeks, a detachable changing pad that unfolds from the back flap, slots for wallet essentials in a front pocket, and a key or pacifier hook hangs in the main pocket. No more over-packed backpacks or stressing over what to take with him when he has the baby all to himself. He can just grab the essentials and go!
Next on our Father's Day Gift Guide list, let's get real. You know what happens when you're sleep deprived with a newborn? You lose things. Often. And you know what can trigger mom rage when Mom is sleep deprived? Having to find things for Dad when he loses them. So eliminate all of that unnecessary unpleasantness by gifting the dad in your life a handy dandy Tile Mate so he can always find what's important. Just attach it as a keychain so he can find it in a pinch with the power of Bluetooth technology and an app. (All by himself with no help from Mom!)
This Tile Mate also comes in handy with television remotes, wireless headphones, cellphones, tablets, wallets, and laptops!
Audible Subscription
Books are a great way to escape reality for a given amount of time. (Something most new parents would enjoy!) That's why an Audible subscription is another great Father's Day gift idea. Best of all, this is another hands-free gift idea; meaning he can listen to a new novel while caring for the baby, cleaning up the house, working in the yard, or helping with nighttime feedings.
Wireless headphones are a great addition to our Father's Day Gift Guide because they're hands-free and tech-savvy! Gifting Dad a pair of high-quality wireless headphones like the AirPods Pro is a gift he'll undoubtedly put to good use while caring for baby, mom, the house, or even at work once paternity leave is up.
Nutty Subscription or Gift Bo
Like Babypalooza, the Alabama Peanut Co. is based out of Birmingham, Alabama, but it ships nationwide. They carry a varied assortment of roasted peanuts, t-shirts, mugs, decals, hats, DIY boiled peanut kits, and more that any dad would love to be gifted on Father's Day!
Housed in Birmingham's 1907 "Peanut House," the Alabama Peanut Co. is one of America's last surviving peanut merchants. They use antique roasters daily to create these delicious and nutritious snacks that are rooted in American and Alabamian tradition.
Baby's First Daddy Board Book
And last but not least on our Father's Day Gift Guide, we're getting a little sentimental. There's nothing more precious than rocking in your nursery's glider or rocking chair and reading out loud to your baby before bed. Not only is this a crucial practice for your baby's mental and linguistic development, but it's a great way for both parent and child to bond while creating a quiet, calm, relaxing routine before bedtime. So why not add some familiar faces to those stories?
Tug at Dad's heartstrings this Father's Day by surprising him with a photo book all about him and his little one. You can find them from retailers like Artifact Uprising, Shutterfly, or Mixbook. You may want to pair this gift with some tissues! This is a heartwarming gift that he and his child can cherish forever.