Bringing Home Baby: What You Need to Know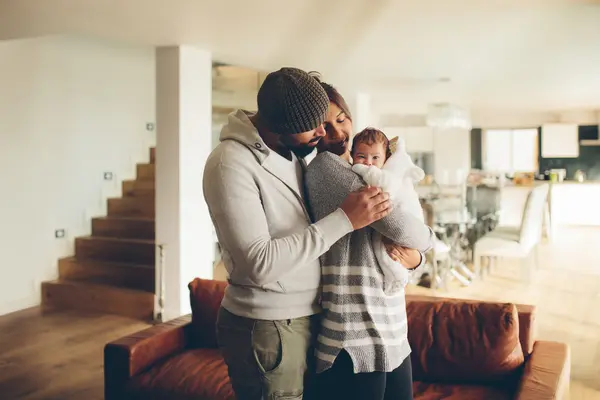 New dad and pediatrician Drew Wright offers practical, valuable advice for navigating the first month with your newborn.
Dr. Drew Wright of Greenvale Pediatrics knows exactly what it's like to bring home a new baby—in fact, he and his wife, Lauren, did so not that long ago! Here's a roundup of his best tips for getting baby home safely, avoiding illness, and more.
Tips For Caring For Your Newborn
Find the Right Pediatrician
Long before you bring home baby, you should already have chosen a pediatrician, Dr. Wright says. "If your pediatrician does nursery rounds at the hospital, this helps establish a relationship starting from birth," he says. Do your research early on, schedule an appointment to ask questions, and decide on the right doctor before your baby is born.
Have Your Car Seat Ready
It's important to purchase a rear-facing car seat and install it properly before your due date.
Set Up a Safe Sleeping Environment
According to the American Association of Pediatrics (AAP), it's ideal to place baby's crib in the parents' bedroom until baby is at least 6 months or ideally 1 year of age. Dr. Wright reminds parents to use a firm crib mattress and avoid placing blankets, pillows, or stuffed animals in the crib.
Know the Scoop on Poop
You'll have a lot to learn about poop and pee. Baby's first poop is called meconium, and it's dark, thick, and tarry. As babies feed more and their gut "wakes up," their poop becomes seedy and mustard-colored, Dr. Wright explains.
Stool frequency can vary. "Some babies may go seven times in one day," Dr. Wright says, "while some go once every other day."
However, urination is more important to monitor. Dr. Wright suggests tracking wet diapers early on and looking for one wet diaper for the number of days old your baby is. "You'll want to see at least one wet diaper on Day 1," he says, "and it can max out when your baby is 6 to 8 days old." Fewer wet diapers can be a sign of dehydration, and you should contact your pediatrician.
Care Properly for the Umbilical Cord Stump
In the past, doctors recommended applying rubbing alcohol to your baby's umbilical cord stump, but studies have proven that's unnecessary. The current advice? "We recommend no special attention," Dr. Wright says.
The cord stump will fall off when your baby is around two weeks old. The main rule is to avoid submerging your baby in water until it falls off, and clean baby with a washcloth until then. You should also fold down baby's diaper so the cord stump isn't covered, Dr. Wright says.
Be Safety-Conscious When Bathing
Newborns don't need baths daily. A few times a week is ample to ensure baby is clean but avoid drying out delicate skin. Safety is crucial when bathing a newborn. Always supervise your baby, and never leave the bathroom even for a moment.
Bringing home a new baby isn't always easy. "It can be stressful, you are sleep-deprived, and this noisy new person is in your home!" Dr, Wright says. He stresses the importance of knowing your limits and stepping back if you need a break. You should also be alert for signs of postpartum depression. One incident could lead to a lifetime of consequences.