Baby Monitor Buying Guide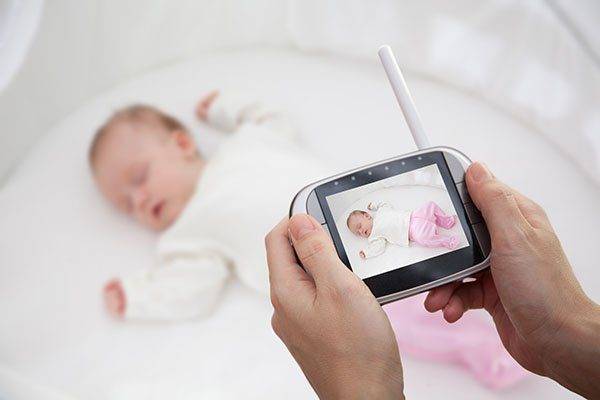 Buying a baby monitor offers peace of mind. You can hear baby (and in some cases even see her) without running to the crib every few minutes.
But choosing the right baby monitor is no easy task. You have so many options: Do you want a video baby monitor or just an audio baby monitor? Do you want a monitor that tracks baby's heart rate, temperature, or oxygen level? Do you want to monitor the room temperature? Does it need to be a budget-friendly unit, or are you willing to spend a bit more for special features or higher quality?
Read on for advice on choosing the right baby monitor, and check out a few of our top picks.
TYPES OF BABY MONITORS
When you boil it down, there are essentially three baby monitor options.
Audio Baby Monitors:
These are likely what you envision when you think about baby monitors. These basic units transmit sound from the nursery to the receiver you keep near you. They don't offer much in the way of special features, and their range can be somewhat limited.
Audio-Video Baby Monitors:
These units have enjoyed a surge in popularity over the past few years. They feature a handy camera that lets you see as well as hear your little one. Some cameras have limited video capability (for instance, you'll see your sleeping infant), while others can record the whole room (your toddler, after he snuck out of bed to play!). Many even have a night-vision capability.
Baby Vitals Monitors:
These high-tech monitors offer the ultimate peace of mind. Relying on either sensors or wearables, these units can track various factors, including baby's movement, breathing, heart rate, and more. Some don't offer sound and video capabilities, so be sure to choose your unit carefully if that's what you need.
FACTORS TO CONSIDER
As you narrow down your options, you'll need to keep in mind several considerations.
Digital Vs. Analog:
These two types of monitors work the same way. However, an analog baby monitor transmits signals to the receiver without encrypting the data, and a digital monitor encrypts the sound. Analog monitors tend to cost less. However, you could encounter interference from cordless telephones or even run the risk of a neighbor overhearing your baby's babbling (particularly in a heavily populated neighborhood). To minimize this issue, look for a 1.9 GHz band rather than a 2.4 GHz band or simply choose a digital monitor.
Reception:
If your home is large, pay special attention to the range of reception offered. Also, keep in mind you may run into reception problems if your home has concrete walls.
Battery Life:
You may lean toward a battery-operated unit to avoid dealing with cords. However, make sure you don't choose one that quickly depletes batteries, as that can get expensive fast. If you do go with a battery-powered monitor, make sure you choose one with an obvious low-battery indicator for safety.
WiFi:
Some baby monitors rely on WiFi and 3G/4G networks. Units that pair with a smartphone can be particularly helpful if you leave baby with a sitter to run errands and still want to check on him while you're out and about. Keep in mind monitors that rely on WiFi only work with an internet connection—not ideal for your remote cabin at the lake!
Receiver:
Consider whether you need one receiver or more. If you plan to keep the receiver with you while you mop floors and do laundry, you should choose one that's small enough to carry easily. And if you need to do noisy tasks, such as vacuuming, look for a receiver that lights up rather than simply emits sounds that you may not hear.
Video Monitors
The award-winning Infant Optics DXR-8 Video Baby Monitor is the whole shebang. You can customize zoom and viewing angle and even pan, tilt, and zoom the camera remotely. You'll also enjoy instant playback and complete digital privacy because no sound or video goes online.
If you're having a hard time deciding between a traditional monitor or wi-fi based one, the Motorola Halo+ gives you both. When you're at home, use the video monitor to keep an eye on your little one. If you have to travel, use the Hubble app to check in on your baby from anywhere in the world.
Not only will the Arlo baby monitor look adorable in any nursery, but it also has all the features you want in a monitor. This little bunny offers HD video, two-way wireless talk, notifications sent to your phone, and temperature sensors. It also doubles as a night light and music player.
The Babysense Video Baby Monitor is surprisingly affordable for all its features: two-way talk, infrared night vision, room-temperature sensor, and more. It offers a high-capacity battery and a long-range (up to 900 feet unobstructed) with an out-of-range warning for peace of mind.
If you've got your home wired with other Google Nest products, a Google Nest indoor camera easily doubles as a baby monitor in your nursery. The indoor WiFi camera has 24/7 live video and night vision for clear video, no matter how dark it is.  The high definition 1080p surveillance camera has a 130-degree wide-angle view, 1920 x 1080 HD resolution, and 8x zoom so you won't miss a thing on whatever device you chose to pair and view the live feed through. 
The iBaby Smart WiFi Baby Monitor M7LK is packed with cool features: crystal-clear video, temperature and humidity sensors, two-way wireless talk, and smartphone alerts. You can also turn on bedtime stories and lullabies, take photos, and record videos.
Sleep Stat Monitors
With the Owlet Duo Smart Baby Monitor, you can track baby's oxygen levels and heart rate via a soft washable sock (it comes with three). You'll be notified via the app as well as with lights and sound if baby's levels are too low or high. Check out our review of the Owlet Smart Sock here.
The Nanit Plus gives you sleep stats for your baby every morning, as well as a timelapse highlight reel of their sleep for you to rewatch. You'll be able to get sleep advice and tips from pediatric experts all within your Nanit app.
The Lumi by Pampers Smart Baby Monitor and Sleep System gives you crystal-clear views of baby (1080p HD resolution with night vision and an ultra-wide 180° view) plus expert sleep coaching tutorials and automatic sleep tracking to help you improve your baby's sleep. The sensor attaches to the secure attachment area on the front of Lumi by Pampers diapers and tracks baby's sleep 24/7. Access expert sleep coaching videos anytime from the Lumi App, where you can also find personalized insights into your baby's sleep and how to improve it, plus keep a close eye on baby from anywhere using the Smart Monitor's secure encrypted WiFi connection. It's everything you need to start building healthier sleep habits.
The Miku Smart Baby Monitor works with your smartphone to track breathing, movement, sleep patterns, and nursery conditions with no wires, pads, clips, or wearables. The Miku Smart Baby Monitor app allows you to share and download unlimited HD video and photos from your smartphone. You can also listen to custom sleep sounds and lullabies on Miku's dual Ole Wolff speakers.
Audio Only Monitors
VTech DM221 Audio Baby Monitor
With the VTech DM221 Audio Baby Monitor, you get lots of bang for your buck. Enjoy clear transmission (no white noise) up to 160 feet indoors, two-way talk, rechargeable batteries, and a belt-clip to go hands-free.
THE BOTTOM LINE
Deciding on such an important baby product is never easy. But your best bet is to choose the monitor that best suits your needs and test it first (without tossing out the receipt!). Does it suit your home's layouts and your needs? Is the sound and clear? Is the video crisp enough? If not, you can always return it and try again.
SAFETY COMES FIRST
Regardless of what type of unit you're looking for, safety is always paramount. If the monitor you choose has a cord, keep it at least three feet away from the crib so it's not a strangulation hazard. To avoid the risk of electrical shock, never put your monitor near water.
Are you concerned about hacking and privacy issues? You can take simple steps to shore up security. First, secure your router by updating the firmware, removing remote access, and choosing a strong password for your WiFi. Once you buy a monitor, register it with the manufacturer to make sure you get any software updates or bug fixes. When in doubt, check with your manufacturer about how to increase the security of your baby monitor.