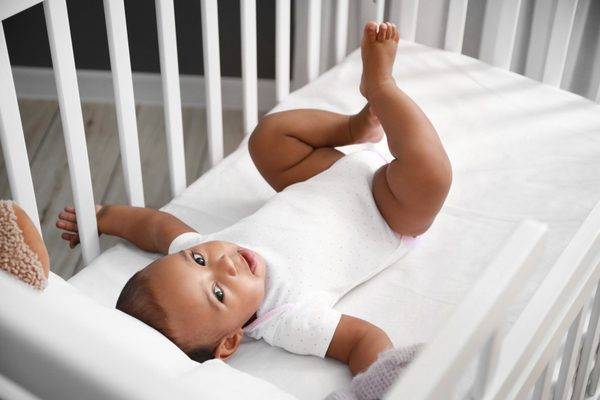 From your crib's mattress to the safety regulations, there are numerous matters to consider when shopping for your baby crib. The following criteria should definitely be followed while you browse through the many cribs out there:
1. Firm Mattress
When it comes to my sleeping arrangements, I'm a big fan of any mattress that I can sink into. But for my baby, it's a different story. Make sure that you choose a crib mattress that is firm and will not sink under your baby's weight. The mattress should also touch every corner of the space so that there's no chance of your baby slipping through.
2. Adjustable Mattress Height
Look for an adjustable mattress that allows you to change the height to keep up with your growing baby. You're most likely going to spend a decent amount of cash on your baby's crib, so why not make it last as long as possible? From infant years to the standing up on his own stage, ensure that your crib has an adjustable mattress to prevent your little one from falling out.
3. Solid Headboard
I know that the elaborate, decorative headboards are pretty. But when it comes to your baby's crib, the aesthetically pleasing takes a backseat behind practical and safe. Avoid headboards with any cutouts so that your baby's clothing doesn't get caught.
4. Crib Slats 2 3/8" Apart
When it comes to the distance between crib bars, the general rule of thumb is that if you can fit a soda can through it, it's too far apart. I'm assuming you won't be shopping with a soda can in your hand for a measuring reference, so just remember that your bars should be 2 3/8 inches apart.
5. Stable
Once you have your crib assembled, it is important to test its stability before entrusting it to hold your sleeping baby. Give your crib a good shake to ensure that it is sturdy and doesn't wobble. This is a great indicator to if you have assembled it correctly – trust me, it may take one or two tries your first time around.
6. No Bumpers
This rule is simple: ditch the bumpers inside the crib. The American Academy of Pediatrics established guidelines in 2011 stating that bumpers in cribs do not actually prevent injury but rather risk suffocation, entrapment, and other sleep-related deaths. When it comes to what goes in your crib, remember that less is more.
7. No Drop Sides
Drop-side cribs are known to cause injury and even death. The Consumer Product Safety Commission (CPSC) banned the production and sale of drop-side cribs in 2011 to improve sleep safety. While they were designed to make it easier for parents to get baby in and out of the crib, the up and down movement of the drop-side created a gap between the mattress and side which could lead to babies getting trapped and suffocating. These cribs could also face issues like breaking or becoming loose, pieces going missing over time, or even the drop-side being installed upside down.
8. Convertible
Convertible cribs are great if you want a crib that will last from when your child is an infant and even through to adulthood. If this sounds right up your alley, make sure that you see how the crib looks when converted into a toddler or full-size bed.
9. Locked Wheels
As a mother who is constantly on the go, I know how convenient it is to be able to move my baby's crib from one room to the next. If you opt for a portable crib, ensure that it is both lightweight, sturdy, and has wheels that can lock – you don't need a rollaway baby on the loose!