Baby Car Seats 101 – What to Know Before Buying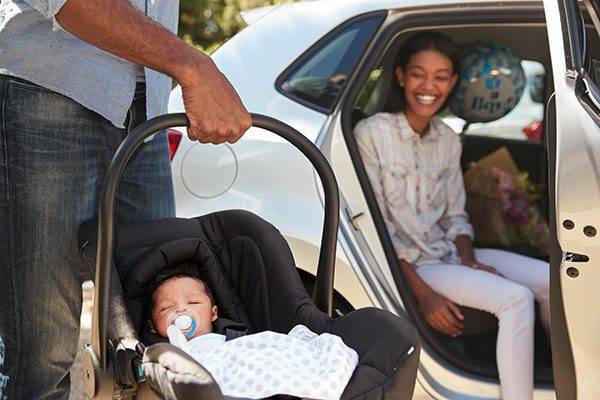 If you're a safety-conscious parent (and who isn't?!), the prospect of choosing the right car seat may seem overwhelming. You want the safest car seat money can buy, plus it needs to be comfortable for your little one, fit properly in your car, and be simple to use—all without going over your budget. You can do this! Read on for a complete guide to choosing the right car seat.
Note: The information offered here is designed to serve as a guide. Always check your car seat manual for specific information about usage, weight and height guidelines, and more.
The Basics: Types of Car Seats
When you start shopping for a new car seat, you'll quickly realize you have plenty of options. You'll first need to narrow it down by type.
Infant-Only Car Seats
These seats are generally the best fit for newborns and small infants. And if you plan to remove your car seat from your car frequently (for instance, to bring a sleeping baby along on an errand), this is the type of seat you'll probably want. These seats feature handles for easy portability, and you can purchase an extra base to easily move them between different family vehicles. Some are also compatible with strollers—you will often see infant car seats and strollers/stroller frames sold together as "travel systems." The drawback? You'll still need to purchase a convertible car seat once baby outgrows the infant car seat (usually at around 35 pounds). Also, keep in mind that a heavy car seat will only get heavier to carry around once your baby is inside!
Convertible Car Seats
These car seats can be used rear-facing for a brand-new baby and then turned forward when baby is ready (if you use an infant-only car seat, you should plan to purchase a convertible seat by your baby's first birthday). Many of them have higher weight limits for rear-facing babies, which can make them a safer option for that stage. However, they can be a bit trickier for positioning a newborn, and you can't easily transport a sleeping baby in this type of car seat.
3-in-1 Car Seats
Want a solution that spans every stage? A 3-in-1 car seat (also called an "all-in-one" car seat) is a good solution. Use them with a rear-facing infant, turn for a forward-facing toddler, and then convert this seat into a booster. However, these seats tend to be large, so they're not always suitable for smaller vehicles—and, again, they're not the best choice if you want a seat that lets you bring baby into the grocery store without unbuckling.
Forward-Facing Car Seats
If baby has outgrown the infant-only seat and you're ready for the next step, another option is a forward-facing car seat with a five-point harness. Unlike convertible car seats and 3-in-1 car seats, these aren't suitable for a rear-facing infant.
Booster Seats
These seats are the last ones you need before your child transitions to sitting in the seat like an adult. You have two choices: high-back booster seats or backless booster seats. High-back boosters are a comfortable option that particularly suit cars with no headrests or low seat backs. Backless booster seats are also a safe option, and they can be less expensive and easier for carpooling.
Car Seat Features
All car seats sold today must adhere to basic safety standards, but specific features may vary. Here are some to watch for:
Wide Straps: Look for wide straps that won't become twisted.
Chest Pads: Chest pads make sure your baby is held securely. You should never add after-market items to a car seat as it can decrease safety.
Side Impact Protection: Some car seats have an added layer of foam around the head to improve safety in the event of a crash.
Harness Slots: Choose a seat with multiple well-spaced harness slots so you can easily adjust the harness as your baby grows.
Aircraft Compatibility: If you plan to fly often, look for a car seat that is aircraft approved.
Should You Buy a Used Car Seat?
Hand-me-downs and garage-sale finds are reason for celebration when it comes to certain baby gear—but not car seats. You simply can't confirm a car seat has not been in an accident, and even if it looks brand-new, certain parts of the seat may have been damaged in the crash, making the seat unsafe. Plus, car seats break down over time, and you should never use a seat that's older than 6 years. It's simply not worth the risk.
Using Child Car Seats Properly
The American Academy of Pediatrics (AAP) recently updated the guidelines for car seat use. Below are the current recommendations:
Infants and Toddlers: Infants and toddlers should ride in a rear-facing car seat as long as possible—that means until they reach the highest height or weight allowed by the seat. Most of today's convertible seats let children ride rear-facing for two or more years.
Children: Older children, once facing forward, should use the forward-facing car seat (with harness) for as long as possible—again, until they reach the highest height or weight allowed by the seat. Most seats suit children up to 65 pounds or more.
Older children: Upon outgrowing the height and weight limits, children should use a booster seat until the lap and shoulder seat belt fits properly. This generally is at 4 feet 9 inches and around 8 to 12 years of age.
Pro Tip: Check the Laws
Car seat laws can vary by state. Check the Governor Highways Safety Association (GHSA) database to familiarize yourself with laws in every state and territory.
7 Questions to Ask Before You Buy a Car Seat
Before you purchase a car seat, jot down the answers to the following questions:
1. Has this car seat been recalled?
(Find out by checking the National Highway Traffic Safety Administration database.) Also, once you buy, it's important to register your car seat so you can be notified if a problem or recall occurs.
2. Will this car seat fit in my vehicle?
Measure your vehicle's interior to see what types of seats are suitable.
3. Does this car seat suit my budget?
Be sure to consider all the factors at play, such as if or when you'll need to purchase another seat.
4. How long will my child be able to use this car seat?
Consider whether you're fine with a short-term seat or prefer one that suits your little one for the long haul.
5. Does this car seat get good reviews?
All car seats have basic safety standards, but reading reviews from other parents can help you narrow down options.
6. Will this car seat be comfortable for my child?
You want a seat that seems soft and comfy without being too padded.
7. Is this car seat safe?
Ensure your car seat meets National Highway Traffic Safety Administration and American Association of Pediatrics standards. Also, look for sharp edges, scuffs, or other issues before you purchase.
7. Does this car seat appear easy to clean?
Spit-up, diaper leaks, and sippy-cup spills can happen. Choose a seat that you can clean easily.
Pro Tip: Installation and Proper Usage
Buying the best possible car seat is only half the battle: You need to install the car seat properly and use it properly every single time. Never install a car seat in the front seat of a vehicle. If an accident occurs, an improperly installed seat or a seat that's not adjusted or buckled snugly and properly can have deadly consequences.
Check the SafeKids events listing to find a car seat installation event near you, or visit the NHSTA website to find an inspection station near you.