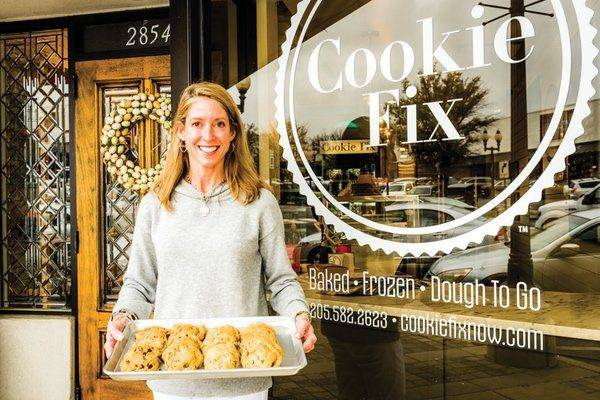 Amy Jason, owner of Cookie Fix, has been baking since she was 10. But it wasn't until she was newly married to husband David a couple of decades ago that she realized whipping up homemade treats was a real talent of hers. "I quickly became the dessert queen among all of our friends, for supper club, refreshment sign up for church, family events, and entertaining," she recalls. "I could easily spend half a day on a decadent dessert."
When her children came along—Kathryn, now 21, Greg, 20, and John, 15—those decadent desserts gave way to quick batches of cookies and brownies. But still, after leaving her career in pharmaceutical sales to become a stay-at-home mom, Amy loved the immediate gratification of whipping up a batch of cookies.
She began to dabble in recipe creation, producing unique cookies and sharing them with the people around her. She signed up for PTA and Sunday school refreshments. If a friend's dog died or their child broke an arm, Amy showed up with cookies. "Bringing cookies was how I loved on people and brightened their day," Amy says.
People loved her cookies so much they urged her to start a business. Though the idea piqued her interest, life was busy, and Amy knew she needed to wait for the right time—which turned out to be just as her second child left for college, leaving only her youngest at home.
"It was way easier than trying this with three kids at home!" Amy says.
Cookie Fix opened its doors November 2016, just two days before Thanksgiving. And business, Amy says, has been "awesome."
"We have fun and friendly customers who are excited to come in to get a cookie and to share lots of cookies," Amy says. "Cookies definitely make people smile, and we love to hear
stories of how our customers are sharing cookies and spreading smiles."
It's important to understand that Amy doesn't sell just any cookies. The cookies from Cookie Fix are "loaded with premium ingredients, in unique recipes, crispy on the outside and gooey on the inside, and baked fresh in small batches all day long," Amy says. People can also pick up frozen dough to go so they can enjoy the perfect cookie at home, fresh from the oven.
"Everyone says that our cookies are very unique and the best they have ever had," Amy says. The most popular selections? Chocolate Chip, Healthy PB Oat, Salted Dark Chocolate Caramel, and White Trash (a white chocolate chip cookie base with toffee and pretzel bits, sprinkled with sea salt).
The hard work has paid off: The company was "thrilled and flattered" to be named one of the best cookie bakeries in the country by the Food Network, but running a business isn't without challenges. "It was a steep learning curve and still is 15 months later," Amy says. Her awesome Cookie Fix team has eased the burden, immensely, she says.
Though her kids are no longer toddlers, they still need her, and she wants to spend as much time as possible with them. During the first year, her hard work and 15-hour days were made possible through tremendous support from her husband. "I love a challenge and wake up every day energized and excited for what lies ahead," Amy says. "Working for yourself is a challenge because the work is never truly done, but the rewards and satisfaction are tremendous."
While household chores and dinner prep may end up on the back burner, Amy says there's a silver lining: "I have said for years, 'I don't always know what's for dinner, but I know what's for dessert!'"