Activity Toy Picks for Babies under 12 Months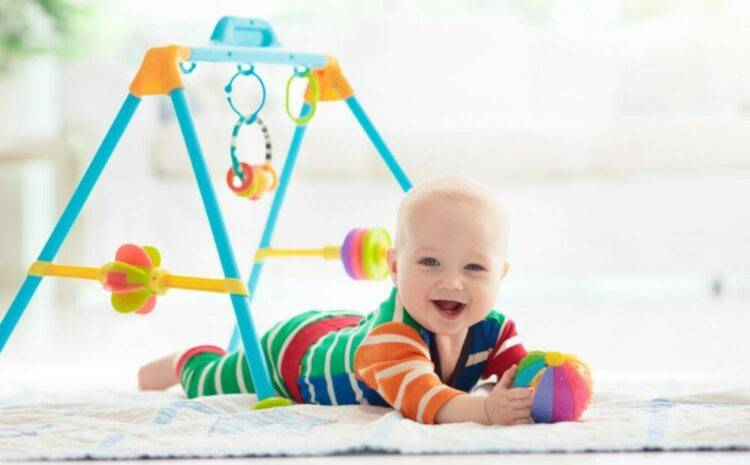 These colorful baby toys and activity centers will keep your baby entertained from the newborn stage through their toddler years while also helping with their development.
This mat will grow with your baby from the time they are born into their toddler years. It's a great space for tummy time and features five development zones that will help teach focus, sound making, sensory exploration, colors, and more. It also comes with a guide for age-appropriate activities to promote brain and motor skill development.
This jumper provides a fun space for your baby to play in any room of the house. It can be adjusted to grow with your baby and comes with a play tray to keep them entertained. The seat can also be tossed in the washing machine or wiped clean, so you won't have to worry about any stains or spills.
Skip Hop Foam Play Mat 
If you have hardwood flooring or just want a designated safe space for baby to play, this mat will provide a soft surface for tummy time, crawling, walking, and beyond.
The Skip Hop activity center provides a full-body approach to play for your little one from the time they are four months old. It features four movable toys, a 360-degree rotating seat, and a discovery window that allows them to see their feet. Once your baby outgrows the bouncer, you can convert it into a table for coloring, playing, and more.
These cards are great for visual stimulation and are printed on sturdy boards to withstand anything your baby throws at them.
Your baby will love staring at themselves in this mirror during tummy time. It also crinkles and rattles.
There's no shortage of things for your baby to grab and touch with this crinkle toy, which features eight tags, crinkle paper, and a squeaker.
This is a smaller teether and will easily fit in your little one's mouth, making it perfect for those early months.
A flexible, teething rattle your baby will love to chew on.