8 Sun Safety Products for Babies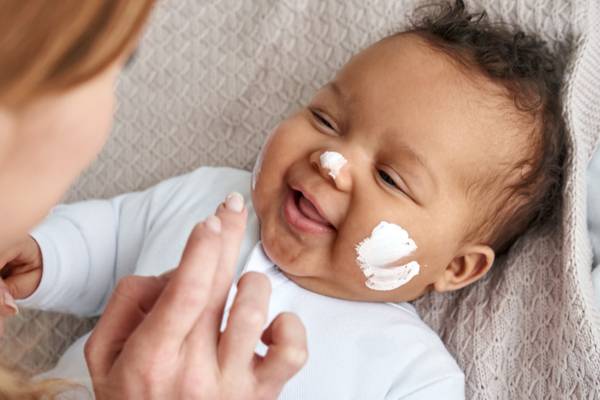 Special care is needed to keep your baby safe in the sun.  Before you head to the pool or beach check out a few of our product picks that can help keep your little one safe in the sun.
5 Ways to Protect Your Baby from the Sun
The American Academy of Pediatrics (AAP) offers the following tips to protect children from the sun:
Keep infants younger than 6 months out of direct sunlight, protected by the shade of an umbrella or tree. When physical protection from the sun is inadequate, apply sunscreen to small areas of your infant's body, such as the face and hands.
Make sure children always wear sunblock, protective clothing, sunglasses, and a hat with the brim facing forward. Baseball caps do not provide protection for ears or neck.
Children and infants should wear sunglasses whenever they are in the sun long enough to get a tan. For maximum protection, pick a pair that fits your child well, has large lenses, and is labeled to block UV rays.
Try to avoid or minimize your child's sun exposure between 10 a.m. to 3 p.m., when the sun's rays are at their peak of intensity.
Because clouds reduce UV rays by only 20% to 40%, kids should wear sun protection even when it's cloudy outside.
Ear and Eye Protection for Babies
Holidays like Memorial Day and the Fourth of July usually involve fireworks. If you have an infant and you are going to be around loud noises or music, such as a concert or car race, consider using Baby Banz.
Comfortable foam pads, sturdy cups, foldability, and stringent specs make BANZ® Hear No Blare earmuffs right to keep your loved ones safe from noise-induced hearing loss. What's more, they are colorful, attractive, and long-lasting.
Light and durable, bright and colorful, fitted yet flexible, BANZ® Original See No Glare Banz polarized lenses have a UV 400 rating for 100% UVA/UVB protection providing protection in even the harshest of environments.
Safe Skin Protection for Babies
This photo of a child with red, blistered cheeks is trending on the internet because the parent used aerosol sunscreen that was too strong for the child's face. Not all sunscreens are appropriate for infant skin. Not only do ingredients in sunscreen interact with skin, but data shows after the application of lotions, some of the same chemicals can be detected in the bloodstream.
Most physicians recommend that it's best to keep infants under 6 months of age out of the sun, or to cover them up in long sleeves and a hat, but if you can't consult with your doctor about using sunscreen on small areas. For children over 6 months sunscreen specifically made for children is recommended. These sunscreens use titanium dioxide or zinc oxide to form a physical barrier against the sun's rays; these ingredients are not absorbed into the skin and are better for infants.
The sunscreen developed by Thinkbaby falls into the highest category for water resistance and has a SPF 50+ Rating.
i play flap sun protection is great because it ties under the chin to keep baby from pulling it off and the flap also protects the back of the neck from the sun. Offers up to UPF 50 protection
The Wallaroo sun hat is adorable, yet functional. It offers UPF 50+ protection, fits children as young as 3 months, and has a velcro chin strap to keep it in place. With cute tropical designs, your little one will be beach ready!
Banz two-piece swim set includes a short sleeve UPF 50 rash guard and coordinating swimwear bottom. Maximum coverage for active kids. All Banz® swimwear has been clinically tested to a rating of UPF 50+.
We didn't even know these were a thing, but how adorable are these sun-protective legwarmers? Your baby will definitely be ready for some poolside aerobics! These sleeves offer UPF 50+ protection and are chlorine/salt water-resistant. The heart patch, while a cute touch, also adds durability and doubles as a pocket.
The kilofly Instant Pop Up Portable Baby Travel Bed uses certified non-toxic, lead free, UPF 35+ baby safe material to protect from the sun. It comes with a detachable sleeping pad and is made for quick set up and clean up.