8 Baby Bath Time Products We Love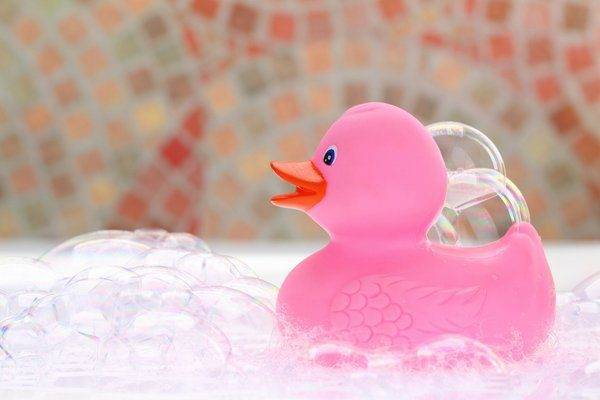 During any given day, you'll experience lots of magical moments with your little one … the messy-faced grin as she fingerpaints her lunch all over her high chair, the sweet giggles while he's swinging at the park, the soft curls against her face while she naps peacefully.
But in our book, bath time is about as fun as it gets. You can take advantage of the time while baby's getting squeaky clean to laugh, talk, and play together. Afterward, snuggle him up in a hooded towel and enjoy a precious moment of cuddle time.
But have you ever noticed that sometimes the best baby bath products are hard to find? Well, we've taken the guesswork out of finding your favorite bathtime products, from shampoo to toys. Check out these bathtime superstars.
Best Bath Products for Baby
There's a whole lot to love about this baby shampoo/body wash combo. Not only does it smell amazing, but it's also tear-free, hypoallergenic, and free of any synthetics. Plus it contains no parabens, soy, gluten, or dye, and it's cruelty-free and biodegradable.
Who says bath time can't be playtime (and learning time!)? These cards are waterproof, plus they float, so you can have fun while your little one gets clean. The deck comes with 30 cards (featuring 15 animals) and instructions on how to play. 24 months+
Here's a super fun bath time set for your tiny engineer! These cool pipes can be used by themselves or connected to create a long network to pour water through. Each one has a different shape and function, and they suction to the wall. They're also free of BPA and PVC. 12 months+

As the name implies, these kid-friendly books are virtually impossible to ruin. Your baby can chew them, bend them, drool all over them and take a bath with them! Take advantage of your captive audience and read some stories. We especially love "Hello Farm," "Baby, Let's Eat," and "Love You, Baby."
This handy combo set features a generous bottle of shampoo/body wash and a bottle of lotion, both with the soothing scent of chamomile. They're naturally derived and free of parabens, phthalates, and dyes.
No one on earth is more snuggly or adorable than a baby in a hooded towel. Bundle your little one in one of these darling elephant-themed hooded towels. The 100% bamboo cotton terry is extra plush and absorbent to protect sensitive skin, and it's large enough (35 in x 35 in) for babies and toddlers alike.
A gentle massage feels great after a warm bath (don't babies have the best life?!). This calendula-infused grapeseed baby oil blend contains no nut oils, mineral oils, parabens, or artificial fragrances—in fact, it's basically scent free. Give baby a gentle rub, or use it to soothe dry skin and scalps.

This diaper cream comes with a special silicone brush so you can apply it gently to your baby's skin without walking away with fingernails full of the stuff—genius! The cream itself, made from zinc oxide, is smooth and thick, and it can really help prevent and decrease diaper rash.
Take a cute baby toddler, add water, and it's a total win! Whether it's a favorite time to play with bath toys or a soothing soak before bed, one thing is for sure: There's nothing on earth sweeter than a squeaky-clean baby fresh out of the tub.
Let us know what you think about our favorites or share your picks!