6 Simple Ideas for Hosting a Modern Baby Shower Theme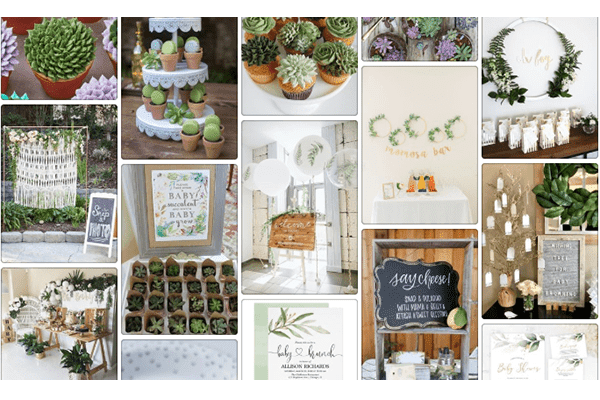 Keeping your baby shower sleek and modern is a popular trend. Sticking to whites, greens, and light colored florals allows for an elegant, modern baby shower that doesn't focus so much on the gender of the baby. It also keeps things simple and makes it easy for you to throw a shower that won't break your bank. Check out our ideas that will help you host the perfect modern baby shower.
Modern Baby Shower Ideas
Decor
Floral Hoops
|
Floral hoops are an easy DIY and can be made specifically to fit your baby shower. Take macrame rings and glue whatever florals you like around them. It's as simple as that! Tie string around them to hang from the ceiling or hang them on the wall.
Photo Booth
|
While it's not technically a photo booth, having a camera around to let guests help you capture the memories can make for a cute addition to your decor. Set up a shelf on one of your tables that holds a sign saying "Say Cheese!" Have a polaroid camera available so your guests can snap pictures throughout the shower. Include pens and notecards for them to write down any thoughts or well wishes they may have. If you want to add more to the photo area, you could always include a macrame or floral backdrop as well.
Food
Edible Terrariums
|
These edible terrariums are so simple to make and will wow your guests by how cute they look. They also make for cute centerpieces. All you'll need is chocolate pudding, cookie crumbs, chocolate rocks, and a candy mold to make succulents.
Succulent Cupcakes
|
Keeping on trend with simplicity, piping on icing to make your cupcakes look like succulents is very easy. Place your cupcakes in flower pot food containers to make them seem even more realistic.
Momosa Bar
|
I mean, come on. How could you not want to have this at your baby shower? Have different juices, berries, and champagne (for the guests who can drink) set up so they can enjoy making a custom momosa.
Party Favors
|
What's cuter than giving your guests their own succulents to take home as a party favor? Literally nothing. Have a variety of succulents available for them to choose from. They'll be the proud new parent of a baby succulent they'll get to watch grow!
Check out more ideas on our Pinterest board or other baby shower ideas here: