5 Smart Home Devices to Help You Help Your Aging Parents Remotely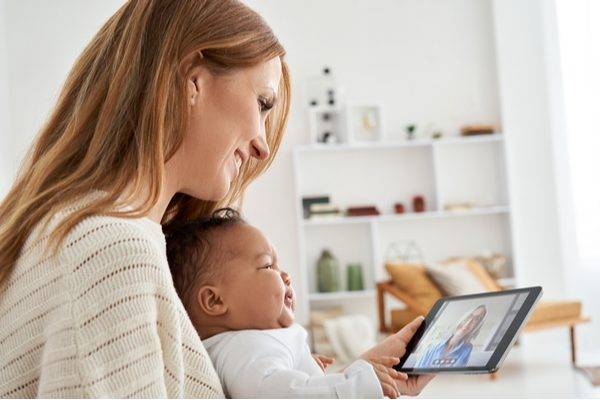 Are you in what they call the sandwich generation, where you find yourself caring for your children as well as for your aging parents? Many of us are. Fortunately, with these smart home devices, there are ways to help Grandma and Grandpa in their home without being there.
Smart Home Devices to Help Aging Parents at Thier House from Your House
Everyone knows about Alexa, and for a good reason, she's a great assistant. There are several devices you can use to access Alexa. Our recommendation for Grandma's house is the Amazon Echo Show.
This device has a large screen to do everything from making video calls to watching television and movies. It has a communication feature that allows for drop-in calls which means your parents can easily get in touch with you just by telling Alexa to drop in. This feature is super helpful if they have difficulty remembering phone numbers or using the phone.
You can also program Alexa to assist with everyday needs and questions your parent may have, such as upcoming events, turning on devices (if you have other smart devices), adding items to the grocery list, and more.
[embedyt] https://www.youtube.com/watch?v=4WtpTra0SKo&width=640&height=360[/embedyt]
The Hero Medication Dispenser can be a lifesaver, literally. Many senior citizens have lots of medications to keep up with, and this task can often get overwhelming for them. The Hero machine allows you to add up to 10 different medications, which are then dispensed based on a pre-programmed schedule. 
The Hero Dispenser will notify when it's time to take the pills by lighting up and chiming. It also has a safety feature that helps prevent multiple doses from being consumed. As a remote caregiver, you can use its iPhone app to see that the medication is taken. The feature I love the most is if the medication isn't taken 15 minutes after it's scheduled, the app will alert you so you can call the parents and give them a little reminder.
[embedyt] https://www.youtube.com/watch?v=aFsxHO4Nltk[/embedyt]
Tracking day and night and time is a common issue with senior citizens. The Digital Day Clock serves as a calendar, count up-down timer, date, and even a temp reminder. It may be mounted on the wall, or you could use the built-in kickstand to sit on a flat surface.
The most helpful features are that it displays the time and if it's morning, afternoon, or night, plus the month and date.
Skylight Calendar
The Skylight Frame was originally designed as a digital photo frame allowing you to email photos to the frame's address where they will instantly appear when connected to WiFi.
They now have the option for you to use it as a frame or as a calendar—the Skylight Calendar syncs with your Apple, Google, Outlook. Cozi, Yahoo, or other calendars allow manually added events, tasks, and even meal plans. This can be helpful if you are keeping up with your parent's doctor's appointments and family gatherings and want to make sure they know what's coming up.
[embedyt] https://www.youtube.com/watch?v=5j4eXAyE54U[/embedyt]
Video Doorbell
A video doorbell is a fairly inexpensive way now to add the ability to see who is coming and going in the home. I find this feature helpful in remotely assisting parents in talking to delivery or maintenance people.
There are a few different options to choose from, but it's all up to your preference.
Bonus: If you also have the Amazon Echo Show from above, you can connect the Ring camera to monitor and view cameras from that device.
The Amazon blink is a budget-friendly option if you're interested in purchasing a video doorbell. As an Amazon product, it connects to Alexa and is compatible with your other Amazon devices. It features two-way audio, HD video, motion detection and chime app alerts, and a wired and wireless version.
The most recent generation of the Ring Camera has been out for at least a year, but it's the best version of their doorbell camera yet! With 1080p HD video, improved motion detection, easy