3 Ways To Help A New Mom During COVID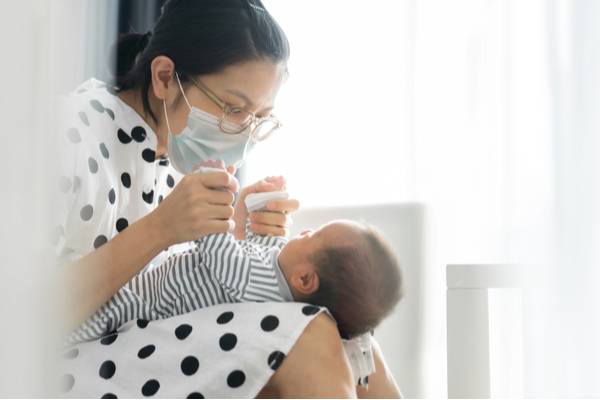 As the world battles yet another COVID variant, the responsibilities of parenthood weigh heavily on new moms. There are still places where moms can not have additional loved ones in the delivery room or a parent to stay over and help with nighttime feedings.  However, there are still ways you can help support a new mom during COVID. 
Support a New Mom During COVID
1. Let her talk about how she feels
While most new moms experience "baby blues" like crying spells and difficulty sleeping after childbirth, having no outlet for their well-earned frustrations leaves these women at a greater risk of facing postpartum depression and debilitating anxiety. Remaining in a constant state of stress causes the body to break down internally and externally, limiting the nurturing capabilities of a new mother.
Interaction with family and friends reduces stress and boosts moods by offering a distraction from responsibilities.
For Chantel Millender Bry, being able to talk to her sister-in-law and friends has helped her feel more supported.
"Consistently checking in on their mental state is paramount," she said. "Whether it's sending a funny meme or just catching up so none of us feel overwhelmed, making sure my ladies are good means a lot to me,"
Try giving the new mom in your network a call and be sure to turn on your listening ears. Try discussing topics that aren't child-related or simply sit back and let her vent. Offer to read a bedtime story via Zoom or send a video that's sure to make her laugh.
2. Send Groceries and Supplies
Empty store shelves have become normalcy as the coronavirus pandemic extends, leaving moms with few choices other than scouring the internet for baby supplies at the risk of paying inflated prices.
Show your support by having packages delivered or sending gift cards to a new mom you know to help cut down on trips to the store and save money. You may also consider a subscription to a grocery delivery service.
3. Schedule time to babysit or have a moms day out
Brittany Grant's job required her to work from home pre-quarantine so now that she's been staying inside to follow safety guidelines, she's found little opportunities for relief.
"I usually leave the house to unwind but now even when I'm off the clock I can't go out," she said. "Sometimes I just need someone to watch her for like 2 hours so I can take a nap or go to the store without the risk of exposing her to the virus even more."
Though it can feel as if the pandemic may never end, provide a new mom you know with hope by offering a "to be determined" babysitting date. Schedule it as far out as you feel comfortable or leave the date open with your commitment secured.
Can you think of any other ways that you can lend a socially distant hand?