11 Best DIY Halloween Costume Ideas for Pregnant Women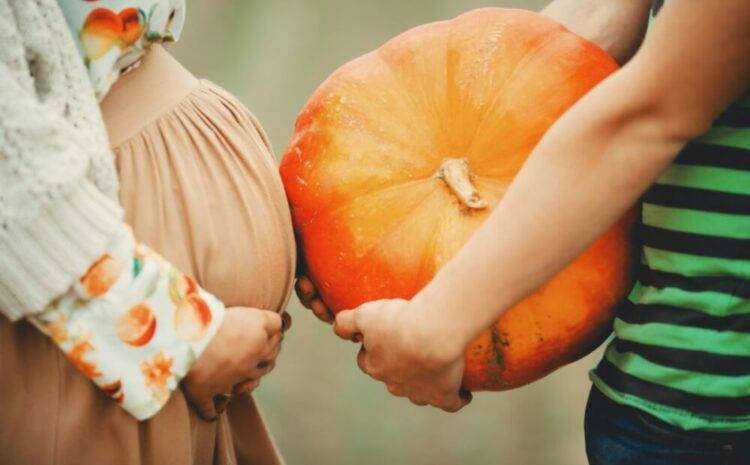 If you're pregnant this Halloween, there are a lot of fun costume ideas to choose from that incorporate your baby bump. We've gathered some of our favorites to help you get ready for the Halloween season.
DIY Halloween Costume Ideas For Pregnancy
1. Baby Bump Jack O' Lantern
|
If you want to get into the Halloween spirit while also keeping your costume simple, a pumpkin is the easiest way to go. You can buy a pumpkin maternity shirt already made, or buy an orange shirt (or dress) and use fabric markers to create your own Jack O' Lantern face on your bump.
2. Magic 8 Bump
|
Another simple costume idea is to be a magic 8 ball. Just take a black shirt or dress, which you probably already have in your closet, and glue a white felt circle with an '8' on it where your bump is. You can also make paper cutouts for answers to carry with you. Will you have the cutest costume at the party? Our signs point to yes.
3. Gumball Machine
|
Not only is this costume idea adorable, it'll also put your glue gun to work. Glue a bunch of pom-poms onto a white shirt to look like gumballs and a coin slot onto a red skirt to complete the gumball machine look. You could even wear a red beret as an extra touch.
4. Winnie the Pooh
|
Oh bother! Winnie the Pooh is an easy character costume to DIY. All you have to do is wear a yellow dress with a red-cropped shirt over it. Add a bear ear headband and some paint on your nose to go the extra mile. It doesn't get much easier than that. The only piece of this costume you'll actually have to make is your 'Hunny' pot.
5. Troll Doll
|
You could be like The Vampire Diaries star Candice King and dress up as a Troll doll. All you'll need to do is take a nude dress and glue a large jewel on your belly button. Choose a colorful wig to style up in typical Troll fashion and you'll be set!
6. Elliot and E.T.
|
E.T. phone home. This costume idea can be a bit of a challenge, but it'll be worth it! The easiest part of this costume will be getting yourself a red hoodie to look like Elliot. Strap a basket around your waist, make some bicycle handles out of tin foil, and draw E.T.'s face on your bump, and you'll be ready to fly your bike into the sky.
7. Wrecking Ball
|
You came in like a wrecking ball! Who could resist turning their bump into the infamous Miley Cyrus wrecking ball video? Wear a gray shirt under a black shirt and cut a hole into it to make it look like a wrecking ball. Glue a Barbie doll to some chains hanging around your neck to finish the look.
8. Baby-8
|
If you're a Star Wars fan, there are a couple different options for you to choose from to bring a galaxy far, far, away to your bump. This Baby-8 (BB-8) costume has to be our favorite! Paint a circle on your shirt to look like BB-8's body, then use a Styrofoam ball to glue on as the head. If the force isn't strong with this idea, you could paint your belly to look like the Death Star as well.
DIY Couples Costumes Ideas
9. Juno 
|
This may be the most obvious idea for a couples costume while you're pregnant, but it's still cute and easy to pull off. Put on a striped shirt, a jacket, and pull a skirt over your jeans to look like Juno. All your partner will need to look like Paulie, and be the cheese to your macaroni, is their best gym attire.
10. Cast Away
|
WILSON! Turn your bump into the famous volleyball by painting a face on your belly. Have your partner wear deserted island attire and carry a FedEx box as an extra prop.
11. Bun in the Oven
|
You've been telling people you have a bun in the oven, why not use that as your costume inspiration? Take a box and design it to look like a stove. Paint a bun on a white shirt so when the stove door opens, people will see an actual bun in the oven. Have your partner dress as a chef to make it a funny couples costume.
Want to see more fun costume ideas? Check out our Halloween Costume Ideas for Pregnancy board on Pinterest!
|