10 Ways to Help Grandparents Cope during Social Distancing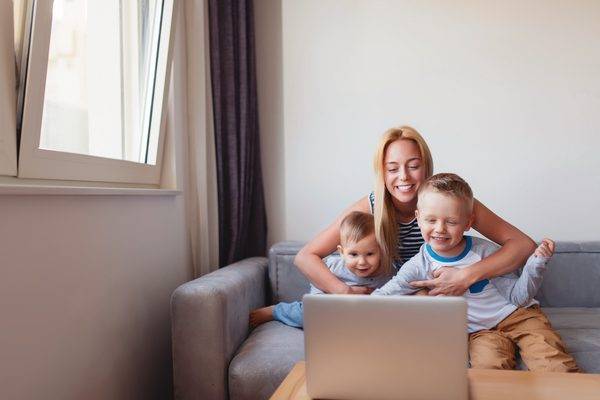 Grandma, Grandpa, Nana, Papa—whatever you call them, they're likely an important part of your kids' lives. During the coronavirus pandemic, we've all been advised to steer clear of older loved ones, who are most vulnerable to this illness. But we want to stay connected.
Here are 10 ways to survive this difficult social distancing—and hopefully come through with an even stronger relationship.
1. Interact with video calls
FaceTime, Google Meet, Skype and a host of other programs let you connect with loved ones via video chat. Along with having sweet conversations, grandparents and kids could sing songs, show one another cool items (drawings, that feather from the yard, etc.), and even have dance parties.
2. Mail letters
Everyone loves snail mail! Have the kids write letters or draw pictures—you could write a letter, too. Address the envelope together, add a stamp, and take it to the mailbox. What a fun surprise for a grandparent when they check the mail!
3. Connect via text
There are easy, fun ways to keep in touch via cell phone. Older kids can play a game with a chat function, such as Words With Friends, with grandparents. And even the youngest kids can tap out (or dictate) a quick text message.
4. Send (and receive) photos
If you're like most moms, you probably send Grandma and Grandpa a lot of sweet pics—bath time, storytime, that beloved high chair spaghetti-on-the-head pic. But ask for photos in return! Your kids would love to see Grandma in the garden, Grandpa cooking, or a sweet selfie of the two of them.
5. Cook favorite recipes
Are the kids missing Grandma's famous cookies or Grandpa's smoked ribs? Ask for recipes so you can make these family favorites for the kids. You could even prepare or eat the food together virtually via video chat.
5. Ask for family stories
Grandparents have amazing stories to tell. Now that we all have a little more time on our hands, take a moment to ask about their childhoods, your (or your spouse's) childhood, and other special memories. If you can, write them down. Even if your kids are too young to understand now, they'll treasure this information someday.
6. Set a standing date for connecting
As life at home becomes the new normal, it's easy to become immersed in our new routines. If this is the case for you, consider setting up a standing date to video chat, talk on the phone, or text with grandparents. Perhaps it's every Sunday afternoon or three evenings a week—whatever works for you!
7. Connect over shared interests
Life is so busy normally that we don't always have time to discuss the details of daily lives. But now that things have slowed down, take some time to talk about kids' and grandparents' interests. Does your little one love dinosaurs? Grandpa may just be a treasure trove of facts! Perhaps Grandma could talk gardening to your budding gardener—they could even virtually plant a seed "together."
8. Make a photo gift
Now's a great time to put together a scrapbook, photo collage, or album of special memories with the grandparents. When you're finished, you can mail it—or wait until you can present it in person.
9. Have grandparents read stories
Storytime with grandparents is a magical memory for many children. Ask your loved ones to video themselves reading a favorite book (or several books) so your children can watch it before bed or anytime they're feeling a little sad.
10. Make plans for later
Though it may feel endless, the coronavirus epidemic won't last forever. Have kids and grandparents discuss what they want to do together when this is all over! Snuggle and watch a movie on the couch? Take a long walk? Spend a day at Chuck E. Cheese? Get creative … and let's hope those fun times will come before we know it!
Everyone is worried about elderly loved ones. Keep checking in, and keep connecting. Grandparents are missing their grandchildren, and we hope you enjoyed these ideas for how to connect. Do you have any fun ideas or traditions for staying in touch? Let us know!