10 Natural Baby Products We Love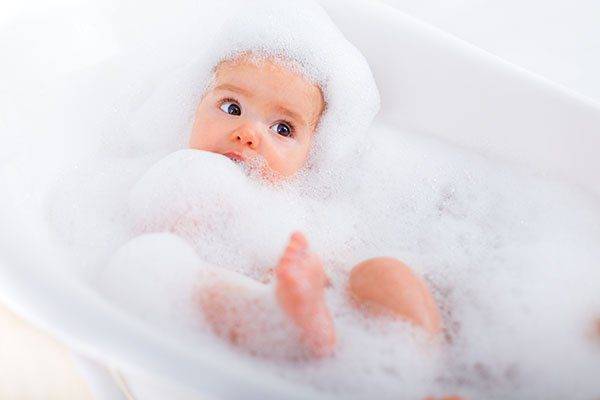 One thing about parents—we all want the very best for our babies. That's why, when you're shopping, you're likely looking closely at labels, scrutinizing the ingredients (can you pronounce them all?), and doing your best to balance your budget with the sometimes-spendy all-natural, organic, non-toxic, cruelty-free, and downright fabulous products you want for your little one.
Good news: All-natural baby products don't need to break the bank. We've rounded up a few of our favorite natural products for bathtime, skincare, feeding, playtime, and more.
BATHTIME
1. The Natural (and Non-Gross) Bath Toy

Goodbye, moldy rubber duck! Bath toys have gotten a bad rap (the plastic! the bacteria!), but the adorable Kala the Whale will make bathtime great again. Not only is it bright, colorful, and completely adorable, but it's also made of 100 percent pure, natural rubber and free of BPA, PVC, and phthalate. The whale is hermetically sealed (genius!) so mold, dirt, and bacteria won't accumulate inside. It's just the right size for little hands and soft enough to chew.
2. The Shampoo With Ingredients You Can Pronounce

Sodium Lauryl Sulfate. Parabens. Phthalates. Sometimes the ingredients in shampoo can make your head spin! Thankfully, you have plenty of all-natural shampoo options. This one by Weleda is a particular favorite because it's gentle, mild, and tear-free—and it smells great. It boasts ingredients like calendula extra, almond oil, sesame oil, and coconut, and no sulfates, parabens, phthalates, and mineral oil. It leaves hair soft and easy to comb, plus (this one's important) it's tear free and won't sting those little eyes.
3. The Bubble Bath Everyone Loves
You've probably been warned against bubble bath—but this safe, gentle formula by California Baby is a good one. It's sulfate-free, and it doesn't contain any allergens like gluten, soy, oats, or dairy. The organic calendula extract and aloe vera are soothing and hydrating. And who doesn't love that it comes with a bubble wand!?
SKINCARE
4. The Lotion With No Sketchy Ingredients
Earth Mama's baby lotion is gentle and soothing enough for your baby's skin, plus it smells great. It's dermatologist-tested and made from organic herbs and oils. If you're like many moms, you'll likely be squeezing out a little extra for your own skin.
DIAPERING
5. Disposable Diapers You Can Feel Good About
For families who want to take an all-natural approach to diapering, cloth diapering is a fun, convenient, and eco-friendly option. (Read more about cloth diapering here.) However, if you're just looking for the best natural disposable diapers? Look no further.
These environmentally friendly diapers by Bambo Nature are ideal for babies prone to diaper rash and allergies. They're absorbent enough to use overnight and soft enough for a baby's sensitive skin.
Founded by Jessica Alba, the Honest Company has been bringing parents natural baby products since 2011. These diapers are made without lotions, fragrances, latex, and chlorine processing, and they feature sustainably harvested fluff pulp and plant-derived materials. Plus, they're carefully designed to fit securely and be soft and comfy.
These diapers are no ordinary Pampers. They're made from 100% certified sustainably sourced wood pulp. They're also free of fragrance, lotion, parabens, EU 26 allergens, and chlorine bleaching. They still have the cute patterns and wetness indicator you're used to, though.
6. The Diaper Cream That's All-Natural and Soothing

Diaper rash is no fun. But this gentle cream from Babo Botanicals, featuring organic calendula, colloidal oatmeal, and non-nano zinc oxide should clear it up. It doesn't smell yucky like some diaper creams. Plus, it's pediatrician-tested and even safe to use with cloth diapers.
FEEDING
7. Bottles That Are Eco-Friendly and Easy to Use
There's no sense stressing about baby bottles. These days, the plastic used in bottles no longer contains BPA, so they're safe to use. However, some parents still prefer to go with glass, stainless steel, or silicone. And we say? Do what works for you and your baby! Here are a few favorites:
GLASS
This glass bottle by Lifefactory features a silicone sleeve for protection and easy gripping. The cap, ring, stopper, and nipple are all free of BPA, BPS, and phthalates. It's all dishwasher safe, and it works with most breast pumps.
SILICONE
These Comotomo bottles and their nipples are made from hygienic silicone. The design is meant to mimic breastfeeding to minimize nipple confusion and bottle rejection. They're safe for microwaves, boiling water, and dishwashers; however, if you prefer to clean bottles by hand, the wide neck makes it pretty easy.
STAINLESS STEEL

You won't find any chemicals in this Thinkbaby bottle. No BPA, phthalates, lead, PVC, or any others. The one-piece design makes it easy to use, and the nipple is designed to reduce spit-up and gas. Plus, as baby grows into a toddler, you can buy a conversion kit to turn the baby bottle into a sippy cup or straw bottle.
8. The Bottle Drying Rack That's Actually Cute
Sometimes it seems like a major part of parenthood is just dealing with all the bottles and sippy cups all over the place. Enter this adorable drying rack. It's free of bad stuff (BPA, phthalates, and PVC), and it lets cups and bottles of all shapes and sizes drip dry. It looks cute on the counter, and, though it's not dishwasher safe, the two-piece design means it's easy to clean.
PLAYTIME
9. The Baby Toy That's Natural, Cute, and Creative
Many parents are increasingly moving away from plastic toys. While wooden toys are a little pricier, they also last a long time. This fun gadget is a rattle, teacher, and toy all in one. It's made from solid beech wood in Germany, and the colors rely on water-based, solvent-free lacquers, making it a great natural baby product. So, it's safe for tiny mouths and hands.
FOR MOM
10. The All-Natural Nipple Soother

For a brand-new mom, nursing can take a bit of getting used to. It's common for nipples to become dry and irritated. Enter this miracle cream from Earth Mama. It's designed to moisturize and soothe your nipples courtesy of calendula and organic herbs. It's 100 percent organic, and there's no lanolin, no petroleum, and no parabens. You don't even need to wash it off before feedings, and it's gentle enough to use on your baby's skin too!
What are some of your favorite natural products for baby? Let us know in the comments!