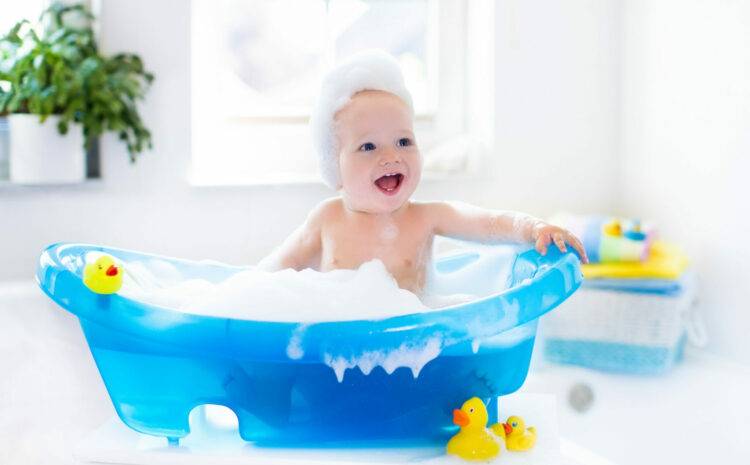 Bath time can be a great way for you to bond and spend time with your baby, and we've compiled a list of the best bath safety tips to ensure you take the necessary precautions to do so safely!
1. Never leave your baby unattended in the bathtub
Supervision is important. If you must leave the room for any reason be sure to dry them completely, then wrap your baby up and take them with you. As little as one inch of water can pose a drowning hazard to an infant/toddler. Keep everything you'll need during the bath within arms reach – toys, towels, soap, etc.
2. Set your water heater not to exceed 120 degrees
Babies have sensitive skin, so anything over 120 degrees can scald them and be very painful. Always opt for checking the temperature with your arm or wrist first to ensure it's not too not. Always remember to turn off running water before you put your baby near the water.
3. Wash with care
If you are bathing your newborn for the first few times, make sure you are avoiding the umbilical cord until it is completely fallen off. Sponge baths are encouraged until their belly button is healed.
4. Utilize a small tub
If you are bathing your infant, you could always choose to use a small tub instead of bathing them directly in your bathtub. This way you can fully control the temperature, the amount of water, and easily transport it between homes.
5. Babyproof the bathroom
If you have any dangling, sharp, toxic, etc. objects, be sure to keep them away from the bathtub, so nothing falls in while you're bathing your baby. If there are any cords or electrical appliances near the bathtub make sure they are safely stored in a childproof area.
6. Plan bath time out
Whether your baby utilizes a bath seat or you need a stool/cushion for your knees – plan ahead. If you plan on washing your baby's hair or letting them play with their bath toys – plan to have those items accessible.
7. Drain your tub after bath time
This may seem like a no-brainer, but some people tend to leave the water in their tub and drain it later. Drain your tub immediately after, just in case you have a wandering toddler or anyone/thing that the water could pose a drowning hazard to.
8. Only use baby-safe products
This includes shampoos, soaps, lotions, etc. Babies have really sensitive skin and products made for adults utilize chemicals that are just way too harsh for babies. If you choose to use a bubble bath – make sure it is a baby-safe as well too.
9. Always keep at least 1 hand on the baby
A wet infant can easily slip out of your grasp by wiggling due to how slippery they are. Avoid leaving any opportunity for them to slide down into the water.
10. Take a CPR class
As soon as you know you're having a child (or if you have children in your life), you should take a CPR class. Dr. Monroe says this is the best way to protect your child.
Babyproofing the Bathroom
To properly babyproof your bathroom you'll need the following:
Non-slip Bath Mat for Tub
Baby Friendly Spout/Faucet cover
Bath Thermometer
Toilet and Cabinet Locks
Baby Bath/Bath Seat
Toilet Handle Lock
Bath Organizer
Corner Guards
It's Important to keep everything in mind when thinking of how to set up for bathtime. Once you do all of the above you want to make sure you secure the toilet brushes, shower curtains, toilet paper, or anything else that can be within toddler's reach.
For more water safety tips, check out our Drowning Prevention Tips.